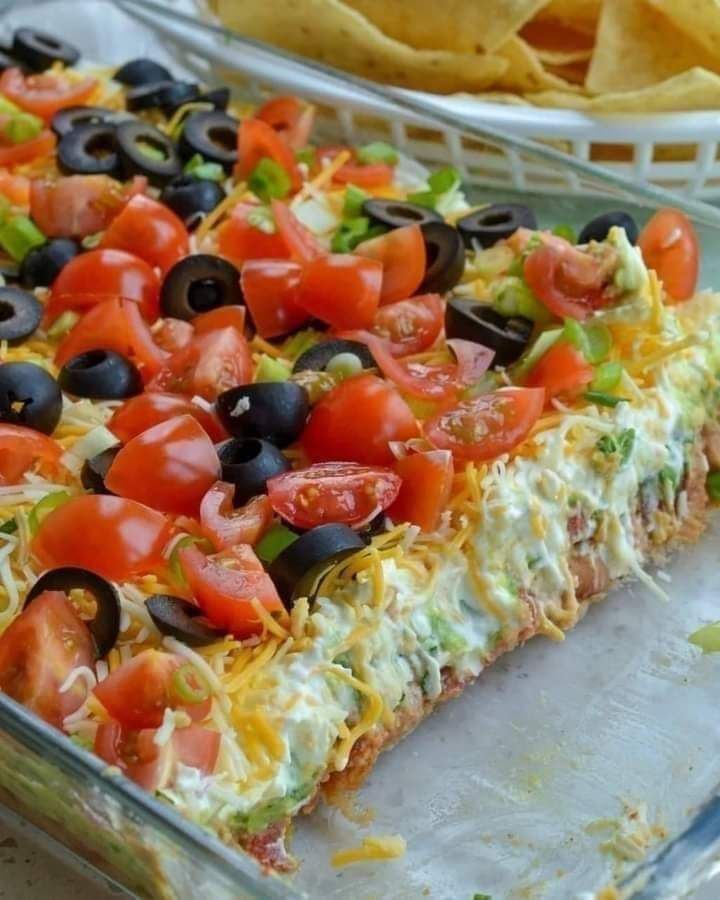 "Dive into layers of flavor and fiesta with our 7 Layer Taco Dip. This delectable creation takes your taste buds on a journey through vibrant Mexican-inspired layers, each one offering a burst of taste and texture that's as exciting as it is satisfying. Imagine a bed of zesty refried beans, topped with creamy guacamole, tangy sour cream, and a medley of diced tomatoes, onions, and fresh cilantro. Layered with gooey melted cheese and crowned with slices of ripe olives, this dip is a celebration of both taste and presentation. With every scoop, you'll experience the harmonious blend of bold spices, cool creaminess, and the satisfying crunch of tortilla chips. Whether enjoyed as an appetizer at fiestas, a show-stopping addition to game day spreads, or a way to add a touch of festive flair to any gathering, our 7 Layer Taco Dip promises a culinary adventure that captures the spirit of Mexican flavors and the joy of sharing good food with great company."
7 Layer Taco Dip
Ingredients
16 ounces refried beans (about 2 cups homemade)

12 ounces guacamole (about 1 1/2 cups homemade)

16 ounces sour cream

8 ounces cream cheese room temperature

1 packet taco seasoning

2 cups shredded Mexican blend cheese

3 ounces canned sliced black olives

2 roma tomatoes diced

¼ cup chopped green onions
Directions
Warm the refried beans in a microwave safe bowl for 2-3 minutes or until easily combined when stirring together. Spread beans into a deep dish pie plate or 8×8 baking dish.
Spread the guacamole over the top of the beans.
Add the sour cream, cream cheese, and taco seasoning to a mixing bowl and beat with an electric mixer until smooth and creamy. Spread over the guacamole.
Layer on the shredded cheese, black olives, tomatoes, and green onions.
Cover tightly and refrigerate for at least 30 minutes before serving.
Serve with tortilla chips and pork rinds for dipping.