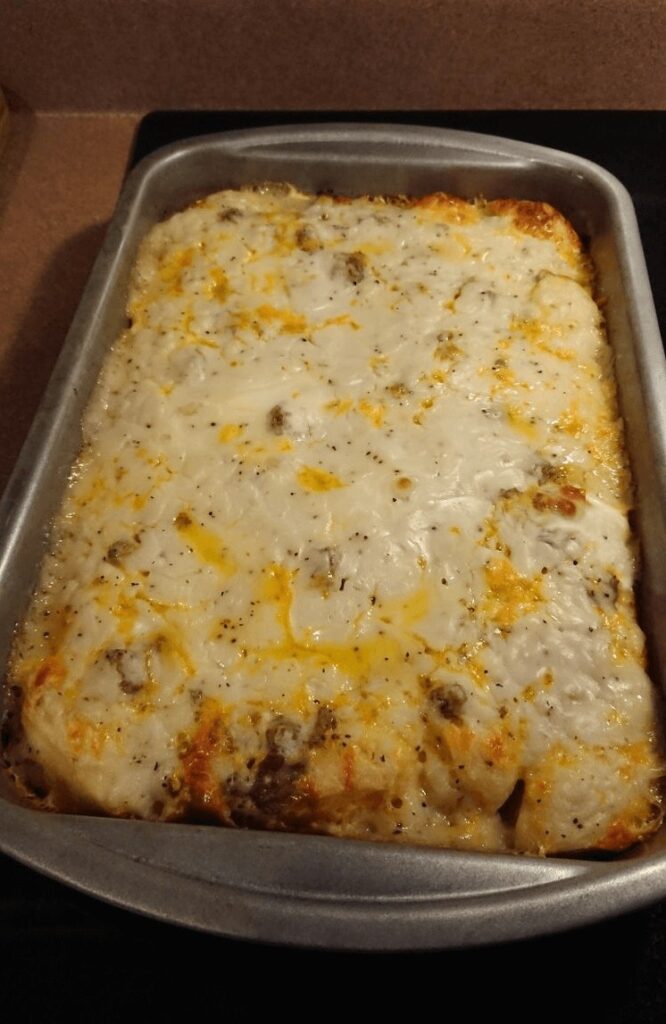 "Step into a world of hearty breakfast indulgence with our Biscuits and Gravy Casserole. This delectable creation takes the classic southern comfort of biscuits and gravy and transforms it into a convenient and shareable dish that's perfect for morning gatherings. Imagine layers of tender, flaky biscuits intertwined with a luscious and savory sausage gravy, creating a symphony of flavors and textures that's both satisfying and mouthwatering. With every forkful, you'll experience the blend of buttery biscuits, seasoned sausage, and velvety gravy that defines this beloved breakfast combination. Whether served as the star of weekend brunches, a comforting option for holiday mornings, or a way to bring the spirit of down-home cooking to your table, our Biscuits and Gravy Casserole promises a culinary journey that captures the essence of breakfast comfort and delight in every delightful bite."
Biscuits and Gravy Casserole
Ingredients
1 pound sausage

1 package of Pioneer Brand Peppered Sausage Gravy Mix

1 cup cheddar cheese, shredded

6 eggs

1/2 cup milk

Salt and black pepper, to taste

1 can Pillsbury Grands Biscuits
Directions
Preheat the oven to 375°F. Grease a 9×13 inch baking dish.
In a large skillet, cook the sausage over medium-high heat, breaking it up with a spatula, until browned and cooked through.
In a medium bowl, whisk together the gravy mix and 1 cup of water until smooth.
Add the gravy to the skillet and stir to combine. Simmer for 2-3 minutes, until the gravy is thickened.
Remove from the heat and stir in the shredded cheese until melted and combined.
In a separate bowl, whisk together the eggs, milk, salt and pepper.
Spread the sausage gravy mixture into the prepared baking dish.
Pour the egg mixture over the top, then top with the biscuits.
Bake for 25-30 minutes, until the biscuits are golden brown and the eggs are set.
10. Serve warm and enjoy!