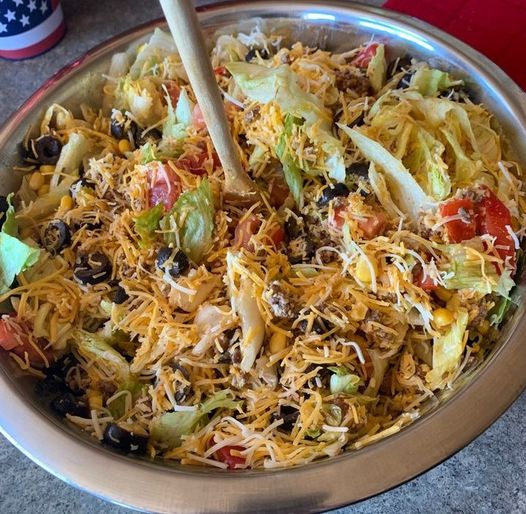 Prepare to embark on a flavor-filled fiesta with our delectable Dorito Taco Salad. This culinary creation is a harmonious blend of Tex-Mex inspiration and irresistible crunch, offering a unique twist on traditional salads. Imagine a medley of zesty seasoned ground beef, vibrant lettuce, juicy tomatoes, and creamy avocado, all coming together in a symphony of taste and texture. What sets this salad apart is the satisfying addition of Doritos – those iconic, crispy corn chips that add a playful and unexpected crunch to every forkful. With a drizzle of tangy salsa and a dollop of cool sour cream, each bite transports you to a lively Mexican cantina, where flavors dance and your taste buds rejoice. Join us in celebrating the fiesta of flavors with our Dorito Taco Salad, a vibrant and unforgettable dish that turns ordinary salads into extraordinary culinary adventures.
Dorito Taco Salad
Ingredients
1 Tbsp. Olive oil

1 lb. Lean ground beef

2 Tbsp. Taco seasoning

1 Medium iceberg lettuce chopped

1 Large tomato diced

1-2 C. Nacho cheese Doritos chips

1 C. Catalina dressing

Sour cream and guacamole for garnish if desired
Directions
Heat the olive oil in a skillet over medium high heat on the stove.
Add the ground beef and taco seasoning to the skillet, and cook until completely browned. Drain and set the meat aside to cool.
Chop the iceberg lettuce, and place it into a large bowl.
Add the chopped tomatoes, cooked beef, Doritos and Catalina dressing to the bowl with the lettuce, and toss well to combine.
Serve topped with sour cream and guacamole if desired.