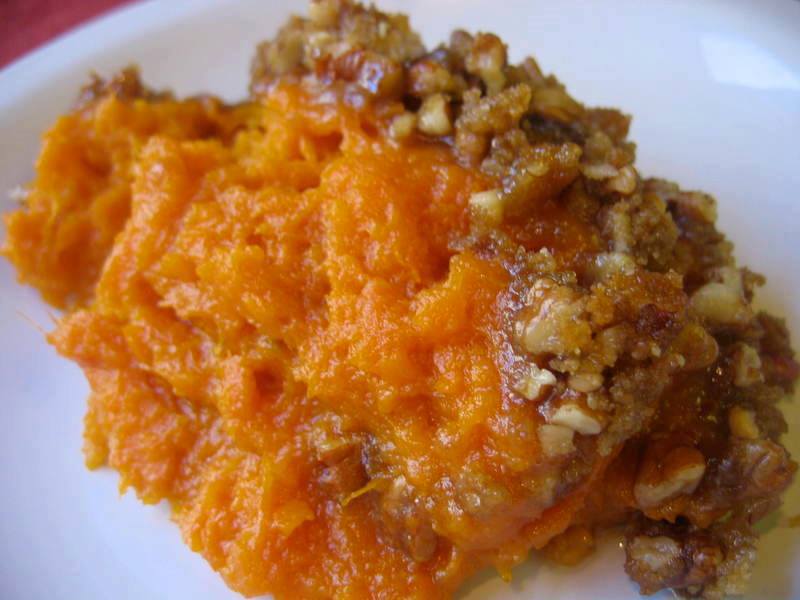 Indulge in a symphony of sweet and savory delights with Ruth's Chris Sweet Potato Casserole. This culinary masterpiece captures the essence of comfort and sophistication, elevating a humble ingredient into a decadent experience. Imagine velvety, caramelized sweet potatoes, kissed by a delicate blend of spices and crowned with a buttery, pecan-studded crust that adds a delightful crunch to every bite. With each spoonful, you're transported to a world where simplicity meets elegance, where the rich flavors of the South harmonize in perfect balance. Ruth's Chris Sweet Potato Casserole is not just a dish – it's an invitation to savor the finer things in life, a testament to culinary artistry that delights both the palate and the soul. Join us in savoring this culinary masterpiece that embodies warmth, flavor, and a legacy of exceptional dining.
Ruth Chris' Sweet Potato Casserole
Ingredients
CRUST

1 cup brown sugar

1/3 cup flour

1 cup chopped nuts (pecans preferred)

1/3 stick butter — melted (Do not omit or reduce this amount)

SWEET POTATO MIXTURE

3 cups mashed sweet potatoes (Garnets looks best and I bake mine first)

1 cup sugar

1/2 teaspoon salt

1 teaspoon vanilla

2 eggs — well beaten

1 stick butter — ( 1/2 cup) melted (You can leave it out or reduce it, if you wish)
Directions
Combine brown sugar, flour, nuts and butter in mixing bowl. Set aside.
Preheat oven to 350 degrees.
Combine sweet potatoes, sugar, salt, vanilla, eggs and butter in a mixing bowl in the order listed. Mix thoroughly.
Pour mixture into buttered baking dish.
Sprinkle the surface of the sweet potato mixture evenly with the crust mixture.
Bake for 30 minutes. Allow to set at least 30 minutes before serving.
Serves 6 Hint: Double the recipe. People will love the leftovers, which also freeze beautifully.