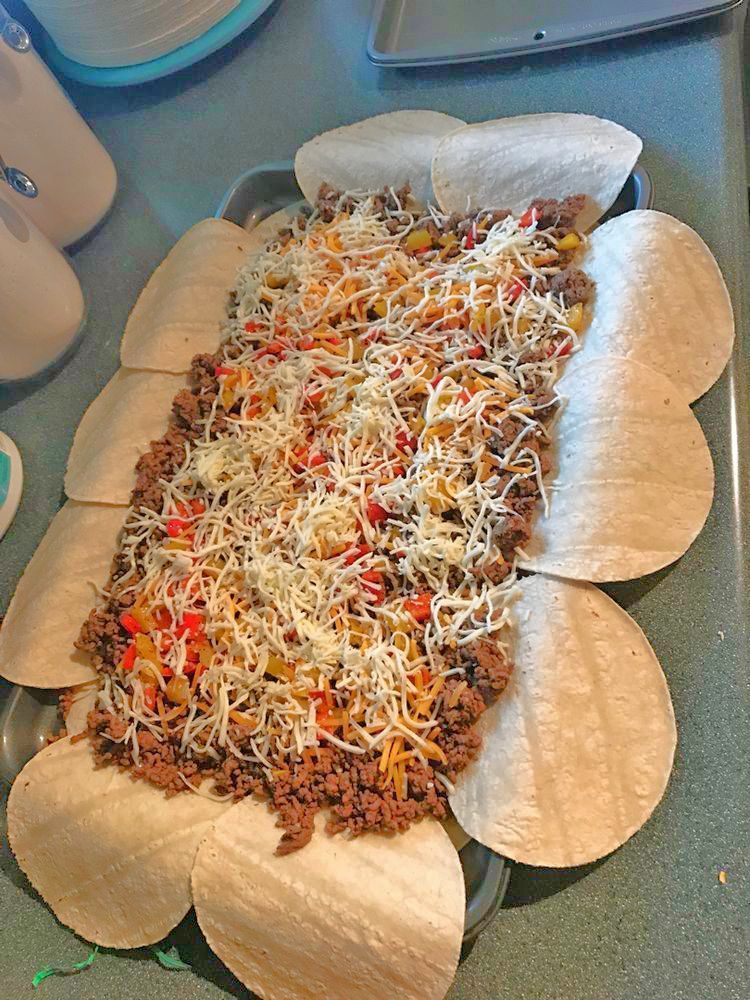 "Experience the ultimate fusion of convenience and flavor with our Sheet Pan Quesadillas. This modern twist on a beloved classic redefines the way we enjoy the cheesy, savory delight of quesadillas. Imagine layers of tortillas generously filled with a medley of seasoned meats, vibrant vegetables, and ooey-gooey melted cheese, all baked to perfection on a single sheet pan. The result? A symphony of textures and tastes that tantalize your palate in every bite. Whether served as a quick and satisfying weeknight dinner, a game day snack that's perfect for sharing, or a creative twist for your next gathering, our Sheet Pan Quesadillas offer a convenient and delicious way to experience the joy of quesadillas with a modern culinary flair."
SHEET PAN QUESADILLA'S
Ingredients
1 tbsp Olive Oil

2 Bell Peppers (Chopped)

1 Onion (Chopped)

1 ½ lb Ground Beef

1 tsp Chili Powder

1 tsp Cumin

½ tsp Paprika

Salt (To taste)

Ground Black Pepper (To taste)

8 Large Flour Tortillas

1 cup Cheddar Cheese (Shredded)

1 cup Monterey Chesse (Shredded)

2 Green Onions (Thinly sliced)

Sour cream (For garnish)

Pico de Gallo (For garnish)
Directions
Preheat the oven to 425° F / 220° C
Heat olive oil in a large skillet over medium heat. Add onion and bell peppers, and cook until soft for about 5 minutes. Remove from the skillet and set aside in a small bowl.
In the same skillet add ground beef and cook, breaking up meat until you get a brown color for about 5 minutes. Make sure to drain fat.
Stir in paprika, chili powder, cumin and season with salt and pepper to taste.
Place 6 tortillas on a baking sheet, make sure to overlap the tortillas and place another one to cover the baking sheet completely.
Top with ground beef, then add pepper and onion mixture.
Add shredded cheese and green onions on top.
Fold the tortillas towards the center and place another tortilla in the center on top of all fillings. If the tortillas don't stay in place, put a second baking sheet on top of it to help the quesadilla hold its shape
Bake until tortillas are beginning to turn crispy, about 25-35 minutes. If you added a second baking sheet, remove it after 10 minutes and continue baking.
Slice the quesadillas into rectangles and serve warm with sour cream and pico de gallo on the top.