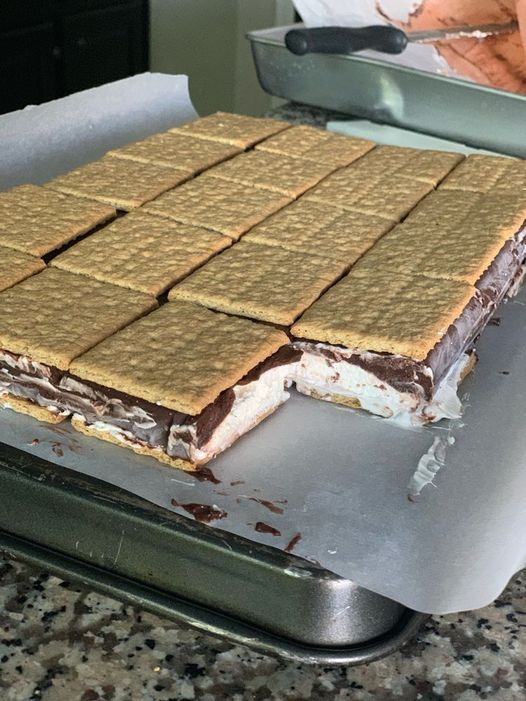 "Experience the nostalgic magic of campfire treats in a delightful frozen form with our S'mores Ice Cream Sandwiches. This creative creation takes the classic combination of gooey marshmallows, rich chocolate, and graham crackers and transforms it into a cool and indulgent dessert that's perfect for warm days and sweet cravings. Imagine velvety layers of creamy ice cream infused with the essence of chocolate and marshmallow, sandwiched between two crisp and buttery graham cracker cookies. With each bite, you'll savor the harmonious blend of textures and flavors that evoke memories of toasty campfires and shared laughter. Whether enjoyed as a playful twist on a childhood favorite, a refreshing way to beat the heat, or a way to relive the joys of summer any time of the year, our S'mores Ice Cream Sandwiches promise a culinary journey that captures the essence of both sweet nostalgia and the pleasure of innovative dessert creations."
S'mores Ice Cream Sandwiches
Ingredients
32 Graham cracker squares

1Large box of instant chocolate pudding, 6 servings

2 ½C.Milk

7oz.Marshmallow creme

8oz.Container thawed Cool Whip

4oz.Softened cream cheese
Directions
Place the instant chocolate pudding and the milk into a large mixing bowl, and whisk to combine until smooth. Let set for 5 minutes.
Line the bottom of a 9×13 baking dish with aluminum foil or parchment paper.
Layer the chocolate pudding evenly in the bottom of the baking dish.
Combine the cream cheese and marshmallow creme in a mixing bowl, beating on high until creamy and well incorporated.
Fold the cool whip into the cream cheese mixture.
Spread the mixture over the chocolate layer in the baking dish.
Place the mixture into the freezer to set for a minimum of 6 hours.
Slice the mixture into 16 squares and place each square between two graham crackers before serving.