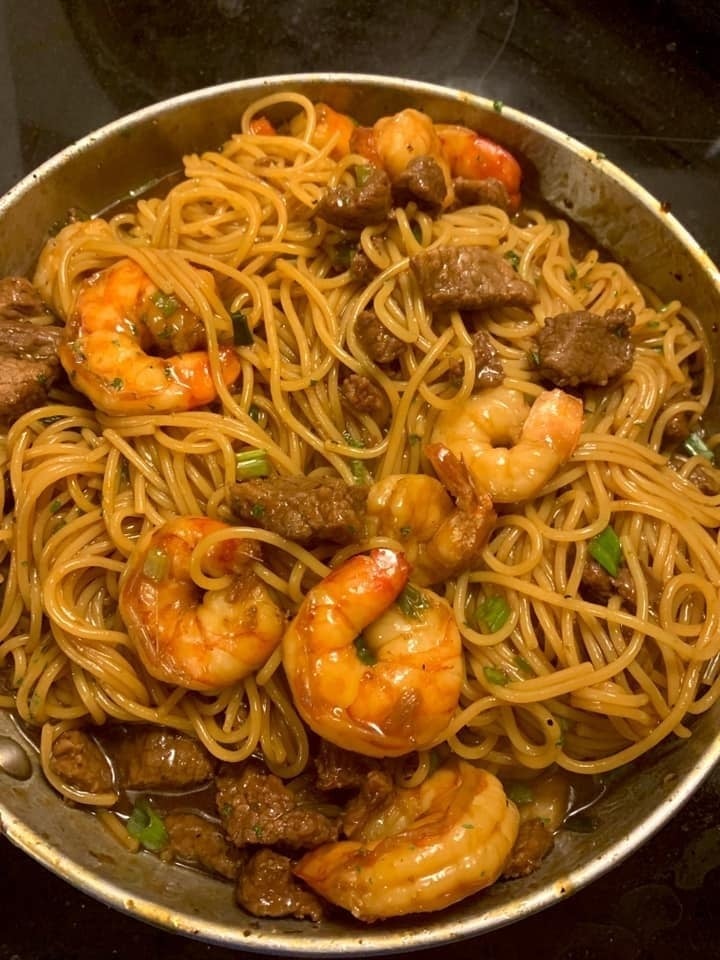 "Elevate your dining experience to new heights with our savory and sensational Steak and Shrimp Teriyaki Noodles. This exquisite dish brings together the best of land and sea, featuring succulent strips of tender steak, plump and juicy shrimp, all bathed in a glossy teriyaki glaze that's a harmony of sweet and savory. Picture these delectable ingredients mingling with perfectly cooked noodles, absorbing the rich flavors and creating a symphony of taste and texture. Whether enjoyed as a luxurious dinner for a special occasion, a culinary escape that transports you to the heart of Asian flavors, or a delightful way to treat yourself, our Steak and Shrimp Teriyaki Noodles promise a gourmet journey that marries the essence of land and sea in every unforgettable bite."
Steak and Shrimp Teriyaki Noodles
Ingredients
1 lb. Shrimp peeled and deveined

1 lb. Steak cut into bite sized pieces

1 lb. Spaghetti noodles cooked and drained

2 Tbsp. Olive oil

2 tsp. Sesame oil

⅓ C. Teriyaki sauce

2 Tbsp. Soy sauce

2 tsp. Minced garlic

½ Medium onion sliced

¼ C. Chopped green onions for garnish

Salt, pepper and seasoning to taste
Directions
Heat the olive oil in a skillet over medium-high heat.
Add in the steak and season with salt, pepper, and seasonings of your choice.
Saute until ½ way cooked through, then add in the sliced onion.
Continue to saute until the onion is tender and the steak is cooked to your liking. Remove and set aside.
Add the shrimp to the same skillet, season, and saute until cooked through. Remove and set aside.
Heat the sesame oil in the same skillet, mix in the garlic and saute for 30 seconds.
Mix in the teriyaki and soy sauces.
Stir in the noodles and toss to combine well.
Add the steak and shrimp back to the skillet and mix to combine.
Garnish with green onions before serving.
Enjoy!