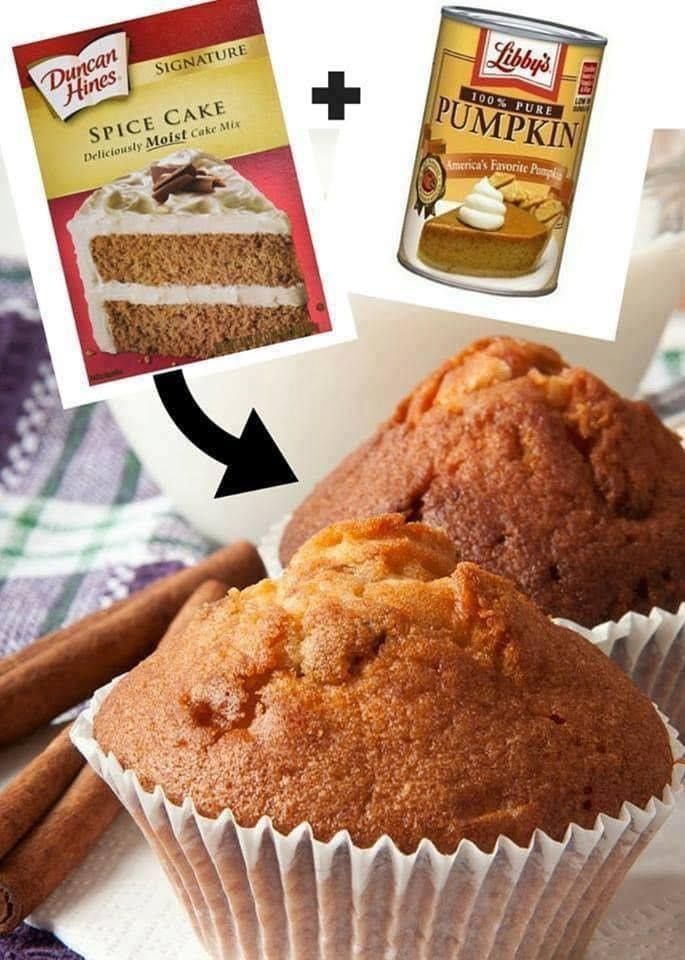 "Embrace the spirit of autumn's warmth and simplicity with our 2-Ingredient Pumpkin Spice Muffins. This delightful creation celebrates the magic that can be achieved with just a couple of ingredients, offering a taste that's as cozy as a flannel blanket on a crisp fall morning. Imagine tender, spiced muffins that perfectly capture the essence of pumpkin and the aromatic allure of seasonal spices. With each bite, you'll experience the comforting flavors of fall in a treat that's easy to make and impossible to resist. Whether enjoyed as a quick breakfast on busy mornings, a charming addition to brunch gatherings, or a way to savor the beauty of minimalism in the kitchen, our 2-Ingredient Pumpkin Spice Muffins promise a slice of seasonal joy that's both delicious and wonderfully uncomplicated."
2-Ingredient Pumpkin Spice Muffins
Ingredients
15 ounces pumpkin puree

1 box Spice Cake Mix
Directions
Preheat your oven to 350F.
Have your helpers dump the cake mix and pumpkin puree into a BIG bowl. (The bigger bowl, the less spills will come over the sides!)
Have them stir the muffin batter to their hearts content! A few dry spots or lumps are not a big deal, but still try to get the batter as even-looking as possible. (Another thing to love about this recipe – no need for a mixer!)
Using a ½ cup measuring cup, portion the pumpkin spice muffin batter into a pre-lined jumbo muffin pan.
Bake for 18 to 25 minutes (depending on how big your muffins are) until an inserted toothpick comes out clean.
Cool on a cooling rack, and then enjoy!