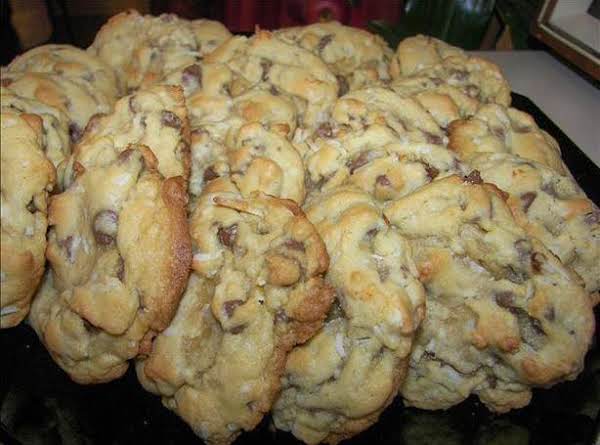 Embark on a journey of delightful nostalgia and nutty indulgence with our irresistible Almond Joy Cookies. Inspired by the classic candy bar, these cookies encapsulate the essence of coconut, chocolate, and almonds in a single, heavenly bite. Imagine a golden-brown cookie base, studded with chewy coconut flakes and rich chocolate chips that melt into pools of sweetness. As if that weren't enough, each cookie is crowned with a perfectly toasted almond, adding a satisfying crunch and nutty depth to every mouthwatering morsel. With each bite, you'll experience a symphony of flavors that pay homage to the beloved candy bar while offering a fresh and delectable twist. Our Almond Joy Cookies are more than just a treat – they're a joyful celebration of textures and tastes, invoking memories of childhood delights and the joy of indulging in a little sweetness. Join us in savoring the magic that these cookies bring to your palate, one nutty-chocolaty-coconutty creation at a time.
Almond Joy Cookies
Ingredients
1 cup butter

1 1/2 cups white sugar

1 1/2 cups brown sugar

4 eggs

3 teaspoons vanilla

4 1/2 cups flour

2 teaspoons baking soda

1 teaspoon salt

5 cups chocolate chips

2 cups sweetened coconut

2 cups chopped almonds
Directions
Pre-heat oven to 375°F Lightly grease cookie sheets.
Combine dry ingredients, set aside.
In a large bowl, cream the butter and sugars together. Beat in the eggs, one at a time, stir in the vanilla. Stir in the dry ingredients until well mixed then stir in the chocolate chips, coconut and almonds. Drop by rounded tablespoonfuls onto the prepared cookie sheets.
Bake for 8 to 10 minutes. Cool on baking sheet for 5 minutes before removing to a wire rack to cool completely.