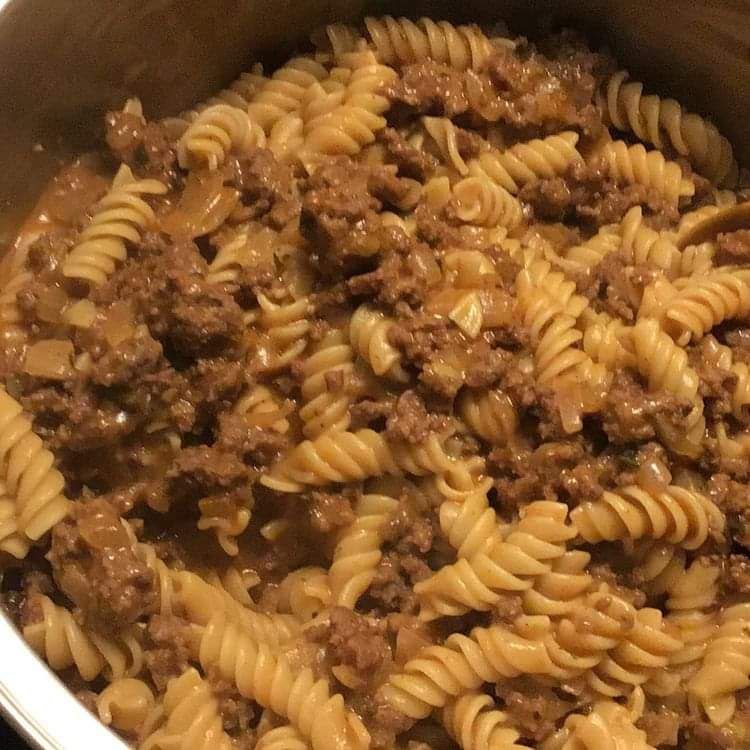 "Take a trip to the heart of wholesome comfort with our Amish Country Casserole. This heartwarming creation embraces the spirit of Amish tradition, combining simple ingredients to craft a dish that's both satisfying and nourishing. Imagine layers of tender egg noodles, seasoned ground beef, and a medley of vibrant vegetables, all nestled in a creamy and comforting sauce. Topped with a blanket of melted cheese, each spoonful offers a symphony of textures and flavors that evoke the warmth of family gatherings and homestyle cooking. With every forkful, you'll experience the harmony of savory meat, hearty pasta, and the soothing embrace of a creamy sauce that captures the essence of Amish-inspired cuisine. Whether enjoyed as a filling family dinner, a way to celebrate the joys of rustic cooking, or a reminder of the beauty in uncomplicated dishes, our Amish Country Casserole promises a culinary journey that captures the heart and soul of comfort food."
Amish Country Casserole
Ingredients
500 g Pasta, your choice ( 16 oz )

1 TB Olive Oil extra-virgin

1 Onion, chopped

2 t Garlic, crushed

750 grams Lean Ground Beef, ( 1 1/2 pounds )

600 grams canned Tomato Soup, condensed ( 22.6 oz )

600 grams canned Mushroom Soup, condensed (22.6 oz )

1 cup Milk, ( 250 ml / 8.45 fl oz )

Salt and Black Pepper, to taste

1/2 t Paprika

1/2 t Dried Parsley
Directions
Pre-heat the oven to 180 deg C (350 deg F) – spray a large oven dish with cooking spray.
Cook the Pasta, in a large pot, as per the instructions on the packet.
Meanwhile, saute the Onion and Garlic in the Olive Oil until soft – add the Ground Beef and cook until done.
As soon as the Pasta is done – drain and return to the pot.
Add the cooked Meat, Tomato and Mushroom Soups and Milk to the Pasta – stir through – season to taste with Salt and Pepper.
Transfer to the prepared oven dish – sprinkle with Paprika and Parsley – bake 25 – 30 minutes.