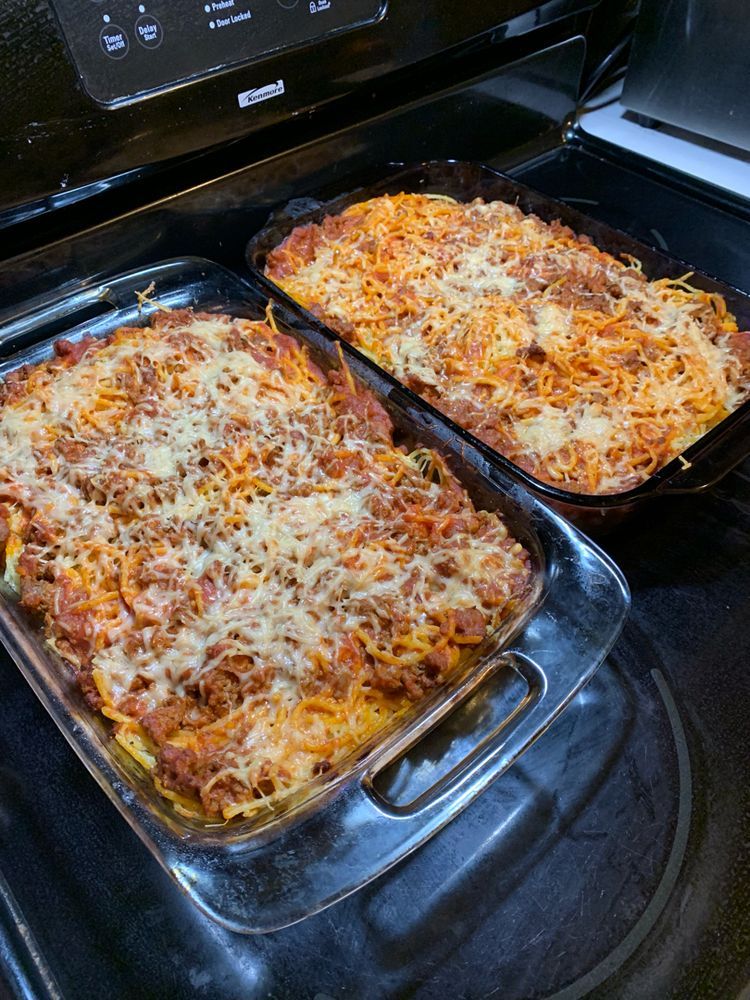 "Delve into a world of comforting indulgence with our Baked Cream Cheese Spaghetti. This unique creation marries the classic appeal of creamy pasta dishes with a touch of baked goodness, resulting in a dish that's both rich and satisfying. Imagine strands of al dente spaghetti enveloped in a velvety cream cheese sauce that's infused with aromatic spices and herbs. Baked to perfection, the top layer turns golden and crisp, while the inside remains irresistibly creamy. With every forkful, you'll experience the harmonious blend of silky pasta, luscious creaminess, and the delight of a baked topping that captures the essence of comfort and innovation. Whether enjoyed as a standout dinner option, a way to elevate everyday pasta, or a celebration of the joy in combining familiar flavors in new and exciting ways, our Baked Cream Cheese Spaghetti promises a culinary journey that captures the heart of both traditional comfort and culinary creativity in every delectable bite."
Baked Cream Cheese Spaghetti
Ingredients
1 pound lean ground beef

16 ounces spaghetti pasta

28 ounces pasta sauce

8 ounces cream cheese

1 pinch garlic salt

1 clove of garlic, minced

1 tsp Italian seasoning

½ cup grated parmesan cheese

½ cup mozzarella cheese shredded
Directions
FIRST STEP:
Preheat the oven to 350*
Bring a large pot of water to a boil. Add salt and boil the noodles according to package directions.
SECOND STEP:
In a skillet, brown the ground beef.
Drain all the fat from the meat
THIRD STEP:
Add the spaghetti sauce and stir to combine.
Drain the spaghetti and place it in a large bowl
FOURTH STEP:
Add cream cheese, garlic salt, minced garlic, Italian seasoning
Stir until the spaghetti is coated and the cream cheese is melted
FIFTH STEP:
Spread a small portion of the meat sauce in the bottom of a casserole dish
Place the spaghetti noodles on the top of that sauce
SIXTH STEP:
Spoon the remainder of the meat sauce over the top
Sprinkle the grated parmesan on top of the meat sauce
SEVENTH STEP:
Sprinkle the shredded mozzarella on top
Bake in a preheated oven for 30 to 35 minutes, until the cheese is bubbly on the top.
Sprinkle more Parmesan on the top and serve.
Enjoy!