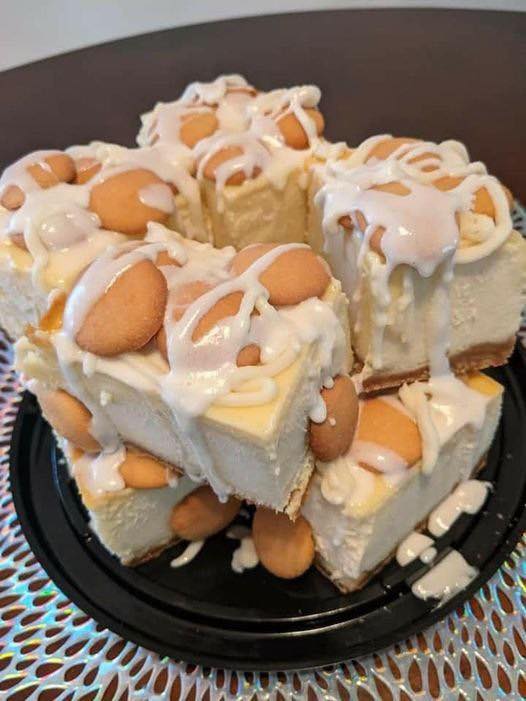 "Delight in a fusion of two beloved classics with our Banana Pudding Cheesecake Squares. This delectable creation combines the creamy richness of cheesecake with the comforting allure of banana pudding, resulting in a dessert that's both luxurious and nostalgic. Imagine sinking your fork into layers of velvety cheesecake, intermingled with slices of ripe bananas and delicate vanilla wafers, all bathed in a luscious pudding-infused filling. With every bite, you'll savor the harmonious balance of textures and flavors that transport you to the heart of indulgence and the joys of childhood treats. Whether enjoyed as a stunning finale to gatherings, a heartfelt homage to two timeless favorites, or a way to savor the fusion of creaminess and sweetness, our Banana Pudding Cheesecake Squares promise a culinary journey that captures the best of both worlds in every heavenly mouthful."
Banana Pudding Cheesecake Squares
Ingredients
1/2 cup unsalted butter melted

1/2 cup light brown sugar packed

1 large egg yolk

1/2 cup all-purpose flour

Pinch salt

1/4 cup mashed ripe banana

1 teaspoon pure vanilla extract

For the Cheesecake Topping:

2/3 cup heavy whipped cream

16 ounces cream cheese 2 blocks

1 cup granulated sugar

3.4 ounce instant banana pudding powder 1 box

1/2 cup milk

1 teaspoon vanilla extract

Optional: Powdered Sugar for extra sweetness

Garnish: Nilla wafers
Directions
For the Blondie Crust:
Preheat oven to 350 degrees and prepare a 8×8 baking pan with non-stick method of your choice.
In a large bowl, whisk together butter and sugar until combined. Next whisk in the egg yolk, flour, salt, banana and vanilla until well combined.
Add blondie batter to pan and bake for 15-20 minutes until just set.
Cool to room temperature and prepare topping.
For the Cheesecake Topping:
Using your hand mixer, whip heavy cream in a medium sized bowl until stiff peaks develop then refrigerate and clean beaters.
In a separate bowl, beat cream cheese until nice and fluffy with hand mixer.
Slowly add in the sugar, banana pudding powder, milk, and vanilla extract. Beat until well incorporated.
Carefully fold pre-made whipped cream into the cream cheese batter.
Taste and add a little powdered sugar if you prefer it a little sweeter.
Pour and evenly spread cheesecake topping over blondie crust and freeze for at least 2 hours or until completely firm.
Garnish with Nilla wafers and serve.
Notes
For the cheesecake filling, Make sure your ingredients are completely at room temperature, especially your cream cheese. If not, you will have a lumpy filling and not a smooth filling.