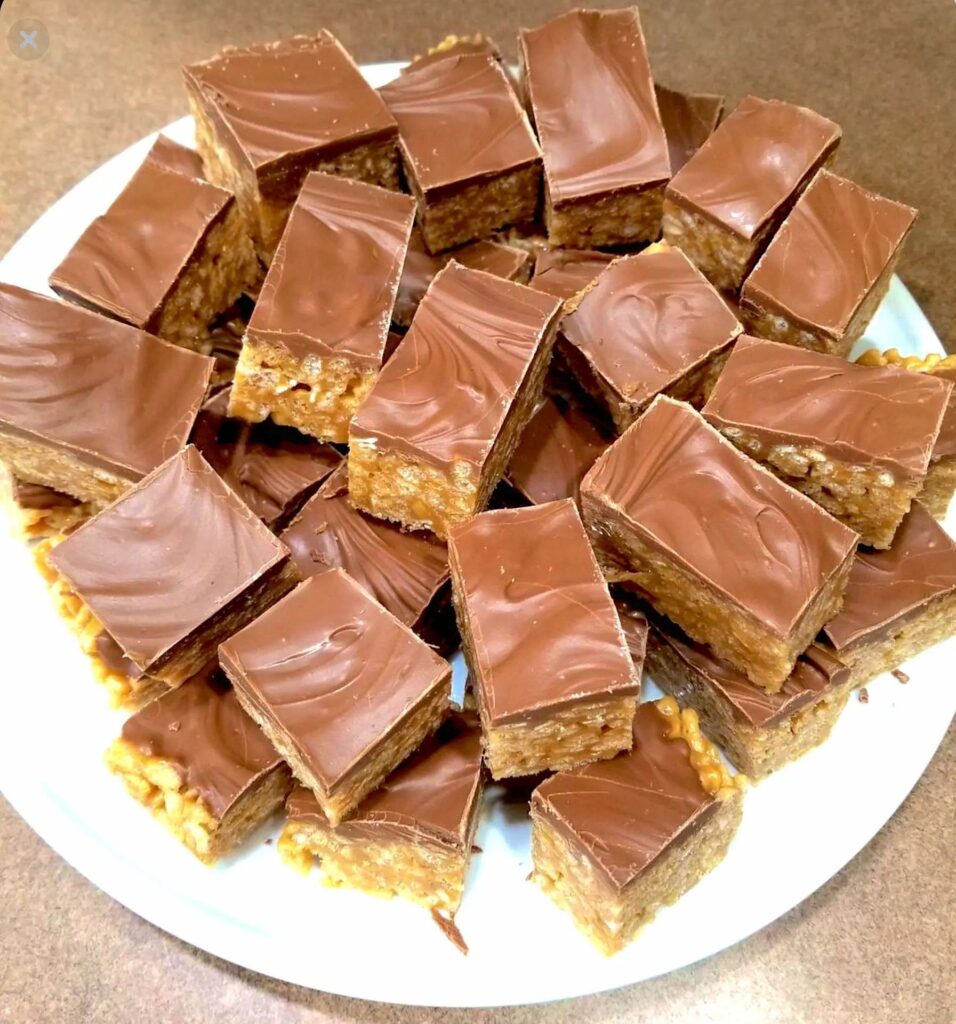 Embark on a journey of irresistible sweetness and timeless nostalgia with our "Best Ever" Scotcheroos. These delectable treats are more than just a dessert; they are a celebration of the perfect harmony between gooey marshmallows, creamy peanut butter, and the delightful crunch of crisped rice cereal. With every bite, you'll be transported to a place where childhood memories and sophisticated flavors intertwine. The "Best Ever" Scotcheroos aren't just a confection; they are a testament to the art of creating joy through the simplest ingredients. As you savor the melding of flavors and textures, you'll experience a symphony of taste that captivates your senses. Whether enjoyed as an after-dinner indulgence or shared at gatherings, these Scotcheroos promise to be a sensation that lingers in your memory. Join us in savoring the magic of a treat that redefines the meaning of "best ever" with each delightful mouthful.
Best Ever Scotcheroos
Ingredients
6 cups puffed rice cereal (like Rice Krispies)

1 cup light corn syrup

1 cup granulated sugar

1 cup creamy peanut butter

1 cup milk chocolate chips

1 cup butterscotch chips
Directions
Heat corn syrup and sugar in a medium saucepan. As soon as the mixture comes to a simmer, remove from heat and whisk in the peanut butter until smooth.
(This can also be done in the microwave using a microwave safe bowl in 20 – 30 second increments, stirring in-between, until sugar is fully dissolved into corn syrup).
Pour the peanut butter and sugar mixture into the Rice Krispies and mix well. Work quickly, it stiffens as it cools.
Press the cereal mixture into a parchment lined 9×13 inch casserole dish.
Melt the milk chocolate chips and the butterscotch chips together with a double boiler, or in the microwave in 20 – 30 second increments, stirring each time, until completely melted.
Spread the melted chocolate over the cereal mixture.
Let set & cool completely before removing from pan and cutting.
Notes
Notes
Calories are automatically generated. For best results calculate based on your exact ingredients.
NOTE: I find chilling in the fridge for an hour before slicing is perfect.