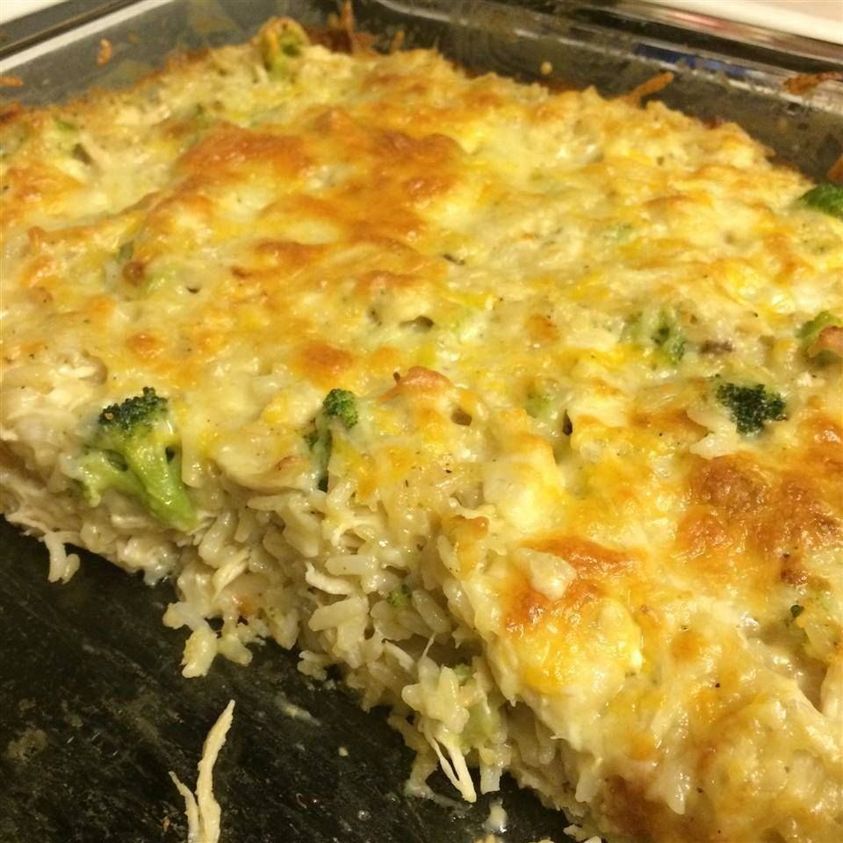 Dive into a casserole that's a symphony of wholesome ingredients and comforting flavors with our Broccoli, Rice, Cheese, and Chicken Casserole. This dish marries the goodness of tender chicken, vibrant broccoli, and creamy cheese with the hearty satisfaction of rice, creating a meal that's both nourishing and indulgent. Imagine layers of perfectly cooked rice, interspersed with succulent chicken and vibrant florets of broccoli. As you dig in, you'll discover the velvety richness of melted cheese that blankets the casserole, uniting all the flavors in a harmonious embrace. Each forkful is a journey through textures and tastes that invoke the warmth of home-cooked meals and the joy of gathering around the table. Whether enjoyed as a family dinner or shared at potluck gatherings, our Broccoli, Rice, Cheese, and Chicken Casserole is an invitation to savor the comfort of classic ingredients elevated to culinary perfection. Join us in celebrating the art of casseroles that capture the essence of wholesome goodness and the magic of a satisfying, well-balanced dish.
BROCCOLI, RICE, CHEESE, AND CHICKEN CASSEROLE
Ingredients
2 cups water

2 cups uncooked instant rice

2 (10 ounce) cans chunk chicken, drained

1 (10.75 ounce) can condensed cream of mushroom soup

1 (10.75 ounce) can condensed cream of chicken soup

¼ cup butter

1 cup milk

1 (16 ounce) package frozen chopped broccoli

1 small white onion, chopped

1 pound processed cheese food
Directions
Step 1Preheat oven to 350 degrees F (175 degrees C).
Step 2In a medium saucepan, bring the water to a boil. Mix in the instant rice, cover, and remove from heat. Let stand 5 minutes.
Step 3In a 9×13 inch baking dish, mix the prepared rice, chicken, cream of mushroom soup, cream of chicken soup, butter, milk, broccoli, onion, and processed cheese.
Step 4Bake in the preheated oven for 30 to 35 minutes, or until cheese is melted. Stir halfway through cooking to help cheese melt evenly.