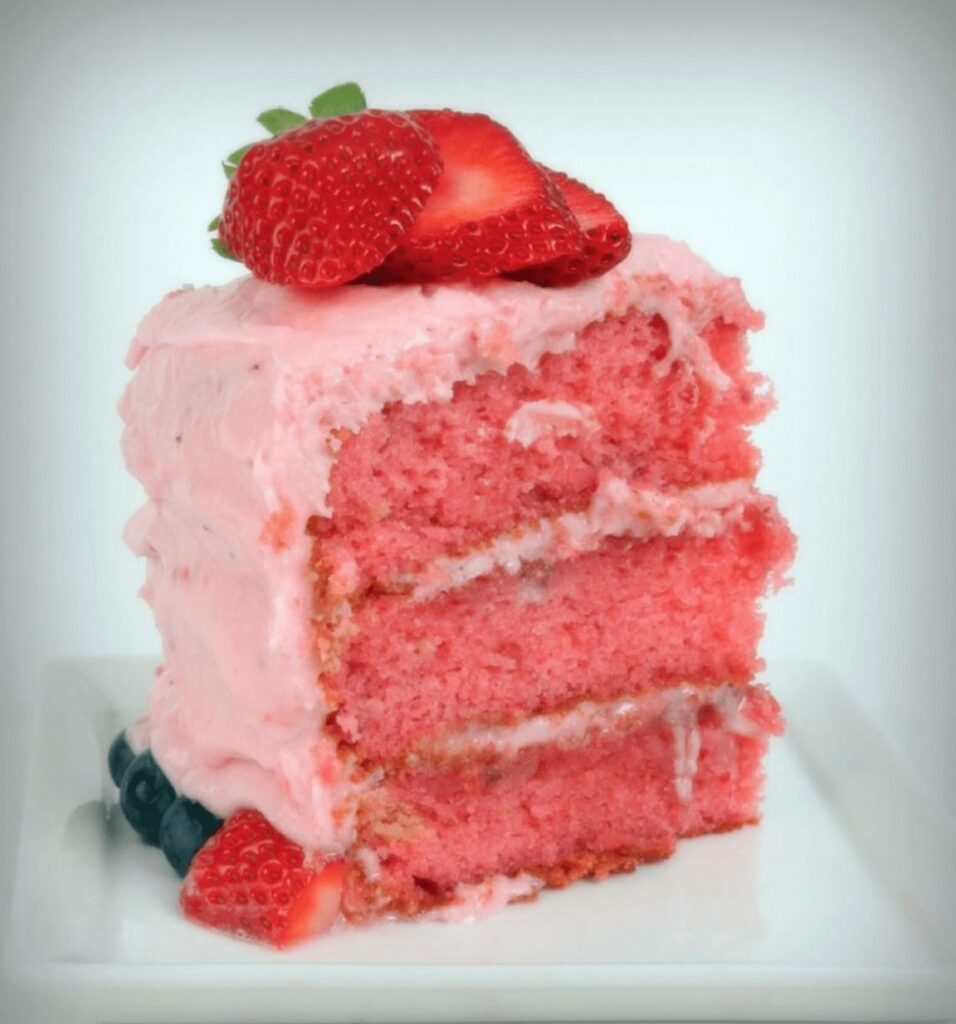 Experience a taste of pure delight with our exquisite Melt in your Mouth Strawberry Buttermilk Pound Cake. This dessert masterpiece is a celebration of the season's freshest strawberries and the timeless allure of a perfectly crafted pound cake. Imagine sinking your fork into a slice that's both tender and moist, as the delicate crumb gently melts on your palate. Each bite unveils the luscious sweetness of ripe strawberries, woven into the very heart of the cake. With a subtle tang from buttermilk and a hint of vanilla, this dessert is a symphony of flavors that dance on your taste buds. As you savor the light and airy texture that gives way to bursts of strawberry goodness, you'll understand why this cake lives up to its name – it truly melts in your mouth. Whether enjoyed as a show-stopping dessert for celebrations or a luxurious treat for quiet moments, our Strawberry Buttermilk Pound Cake is an invitation to savor the magic that happens when classic ingredients come together in perfect harmony. Join us in savoring a slice of summer sweetness that's as enchanting as it is delicious.
Melt in your Mouth Strawberry Buttermilk Pound Cake
Ingredients
1/2 cup shortening

1/2 cup butter

2 cups granulated sugar

3 ounce package strawberry gelatin I used Jello brand

5 large eggs at room temperature

1 cup buttermilk (whole milk can be used) at room temperature

3 cups all-purpose flour

1/2 teaspoon salt

2 and 1/2 teaspoon baking powder

1 tablespoon vanilla extract
Directions
Sift flour, salt, and baking powder together.
Preheat oven to 325 degrees. Prepare a 10-inch bundt pan with solid vegetable shortening then sugar or flour.
In the bowl of a stand mixer, cream together shortening and butter. Add sugar and mix until fluffy.
Next mix eggs in one at a time until yellow mixes in the batter. Add vanilla and mix in the batter.
Add strawberry gelatin to the flour mixture. Whisk to combine.
Add flour mixture alternately with buttermilk, beginning and ending with flour mixture. (1/3 flour mixture, 1/2 buttermilk, 1/3 flour, 1/2 buttermilk, 1/3 flour)
Pour batter into a bundt pan and smooth top.
Bake in 325-degree oven 65 to 70 minutes.
Allow cake to cool for 10 – 15 minutes then carefully turn out on a serving tray.