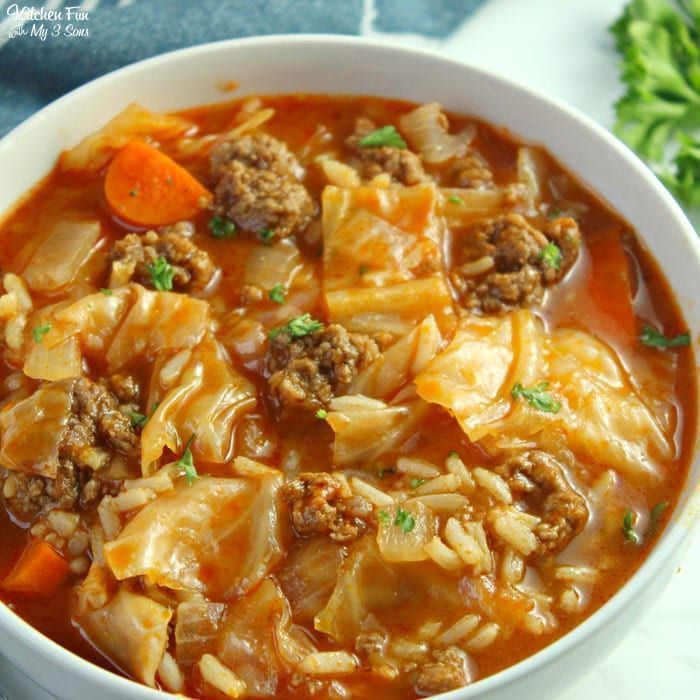 "Delight in the heartwarming embrace of comfort with our Cabbage Roll Soup. This inspired creation takes the cherished flavors of traditional cabbage rolls and transforms them into a hearty and soul-soothing soup. Imagine tender cabbage leaves, lovingly wrapped around a mixture of flavorful ground meat and fragrant rice, all simmering in a rich tomato broth. Each spoonful offers a taste of nostalgia, a reminder of family gatherings and cherished recipes passed down through generations. Whether enjoyed as a cozy bowl on a chilly evening, a nourishing lunch that satisfies the senses, or a way to savor the essence of home cooking, our Cabbage Roll Soup is a tribute to timeless flavors and the joy of culinary traditions that continue to bring warmth to our hearts and tables."
Cabbage Roll Soup
Ingredients
2 teaspoons olive oil

salt and pepper to taste

1 pound ground beef I use 90% lean

1 onion finely diced

2 teaspoons minced garlic

4 cups coarsely chopped green cabbage

2 carrots peeled, quartered and sliced

4 cups beef broth

3 8 ounce cans tomato sauce

1/2 cup uncooked long grain rice

1 bay leaf

3 tablespoons brown sugar

2 tablespoons parsley
Directions
Heat the olive oil in a large pot over medium high heat. Add the ground beef and season with salt and pepper to taste.
Cook, breaking up the meat with a spatula, until beef is browned, approximately 4-5 minutes. Add the onion and garlic cook for 2-3 minutes.
Add the cabbage, carrots, beef broth, tomato sauce, rice, bay leaf and brown sugar to the pot. Season with salt and pepper to taste.
Bring to a simmer and cook for 25 minutes or until rice is tender. Remove bay leaf and discard.
Sprinkle with parsley and serve.
Notes
Recipe adapted from The Wholesome Dish.
Not a fan of ground beef? Try ground turkey instead!
You can substitute brown rice for white rice, but that will require about 20 more minutes of cook time.