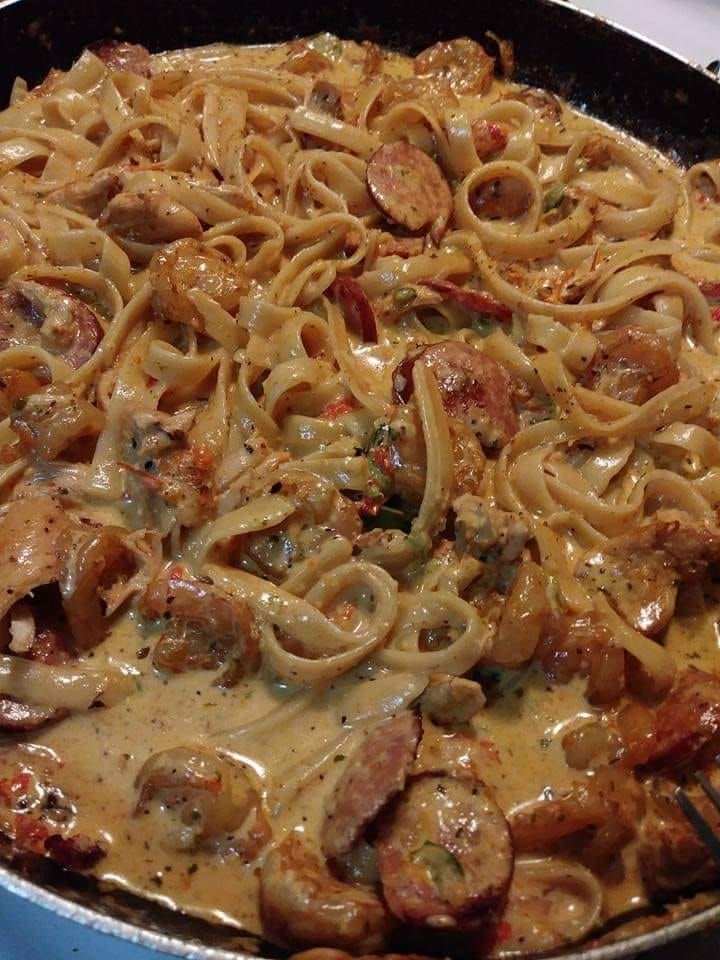 Embark on a culinary journey that transports your taste buds to the vibrant heart of Louisiana with our Cajun Shrimp Pasta with Sausage. This dish is a harmonious blend of bold flavors, where succulent shrimp, savory sausage, and the rich essence of Cajun spices come together to create a symphony of taste that's nothing short of extraordinary. Imagine tender pasta strands enveloped in a luscious, perfectly spiced sauce that carries the warmth of the South in every mouthful. With each bite, you'll experience the delightful contrast of juicy shrimp and hearty sausage, perfectly complemented by the aromatic Cajun seasoning that dances on your palate. Our Cajun Shrimp Pasta with Sausage is more than just a meal; it's a celebration of Louisiana's culinary heritage and the joy of savoring flavors that awaken the senses. Whether enjoyed as a soul-satisfying dinner or shared with loved ones on a special occasion, this dish promises to be a feast of indulgence and authenticity. Join us in embracing the magic of Cajun cuisine and the irresistible allure of a dish that captures the essence of the Bayou State.
Cajun Shrimp Pasta with Sausage
Ingredients
1 lb. large shrimp (peeled and deveined)

Kosher salt and fresh cracked black pepper (to taste)

1 teaspoon Cajun seasoning (or Creole seasoning)

½ teaspoon dried Oregano

2 tablespoons Olive oil

6 oz andouille sausage or smoked sausage (thinly sliced)

10 ounces fettuccine pasta

½ yellow onion (thinly sliced)

1 red bell pepper (thinly sliced)

4 teaspoons Cajun seasoning (or Creole seasoning)

1 teaspoon brown sugar

2-3 cloves garlic (chopped)

½ cup crushed tomatoes

1 cup chicken broth sodium free

1 cup heavy cream

⅔ cup Grated Parmesan

1 tablespoon parsley (chopped)
Directions
Toss shrimp with salt, pepper, Cajun seasoning and Oregano, and coat well. Heat a large skillet over medium high heat and drizzle bottom of pan with olive oil.
Add shrimp and cook for 2 minutes. Flip shrimp over and cook another minute or two. Then remove to a plate and set aside. Drizzle pan with a little more olive oil, add sausage and brown until nicely caramelized, about 4 – 5 minutes. Remove to plate, set aside.
Add pasta to salted boiling water and cook until al dente.
Lower heat to medium and add a bit more olive oil to the pan, add the onion, red bell pepper, Cajun seasoning, brown sugar, and a generous pinch of salt. Sauté until onion and pepper have softened a bit, scraping up any browned bits that you can. Add the garlic and cook until fragrant, about 30 seconds.
Add crushed tomatoes, chicken broth and heavy cream. Bring to a simmer, stirring and scraping up any brown bits from bottom of pan, simmer a couple minutes.
Once simmering, add Parmesan and stir into sauce. When Parmesan is blended in, add cooked pasta and sausage and stir to combine and heat through, 2 – 3 minutes. Salt and pepper to taste and then lastly, add shrimp.
Serve with chopped parsley.