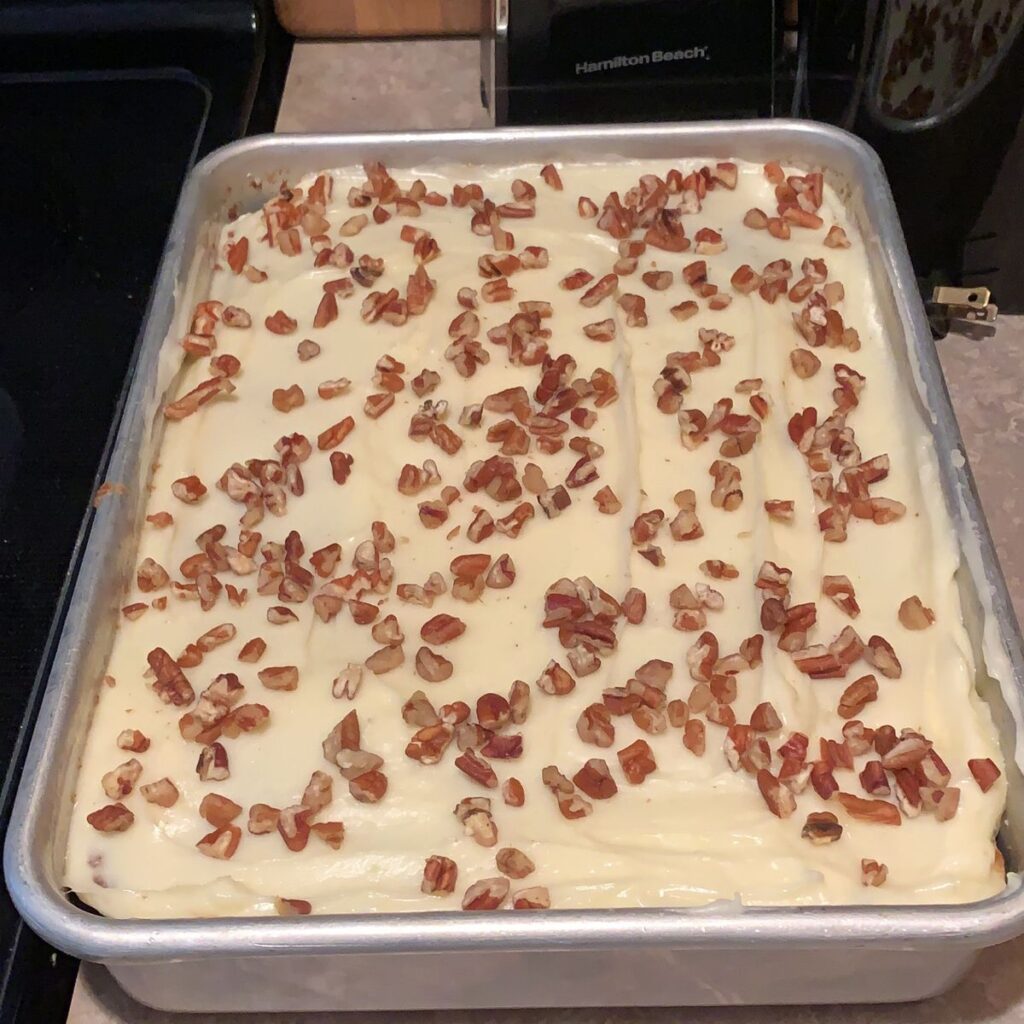 "Experience the blissful fusion of classic flavors and generous indulgence with our Carrot Cake Sheet Cake. This delightful creation pays homage to the timeless appeal of carrot cake, transformed into a moist and flavorful sheet cake that's perfect for sharing and savoring. Imagine layers of tender carrot-infused cake, studded with crunchy walnuts and plump raisins, all enveloped in a velvety cream cheese frosting that's both tangy and sweet. Each forkful offers a harmonious blend of textures and tastes that capture the essence of comforting spices and the richness of homemade goodness. With every bite, you'll savor the delightful contrast of earthy carrots, the crunch of nuts, and the silky pleasure of cream cheese frosting, evoking memories of special occasions and shared moments. Whether enjoyed as a centerpiece dessert for gatherings, a way to celebrate the joy of baking, or a reminder of the happiness found in the simplest of flavors, our Carrot Cake Sheet Cake promises a culinary journey that captures the heart of tradition and the delight of savoring classic creations."
Carrot Cake Sheet Cake
Ingredients
2 cups all-purpose flour

2 tsp baking powder

1 tsp baking soda

1 tsp ground cinnamon

1/2 tsp salt

1 1/2 cups granulated sugar

3 large eggs

1 cup vegetable oil

2 cups grated carrots

1 cup chopped pecans or walnuts (optional)

For the frosting:

8 oz cream cheese, softened

1/2 cup unsalted butter, softened

4 cups confectioners' sugar

2 tsp vanilla extract
Directions
Preheat your oven to 350°F (180°C). Grease a 9×13 inch baking pan and set aside.
In a medium bowl, whisk together the flour, baking powder, baking soda, cinnamon, and salt.
In a large bowl, beat together the sugar, eggs, and oil until well combined. Add the dry ingredients to the wet ingredients and stir until just combined. Stir in the grated carrots and nuts, if using.
Pour the batter into the prepared pan and smooth the top with a spatula. Bake for 30-35 minutes, or until a toothpick inserted into the center comes out clean. Allow the cake to cool completely.
To make the frosting, beat together the cream cheese and butter until smooth. Add the confectioners' sugar and vanilla and beat until well combined and smooth. Spread the frosting over the cooled cake and serve.