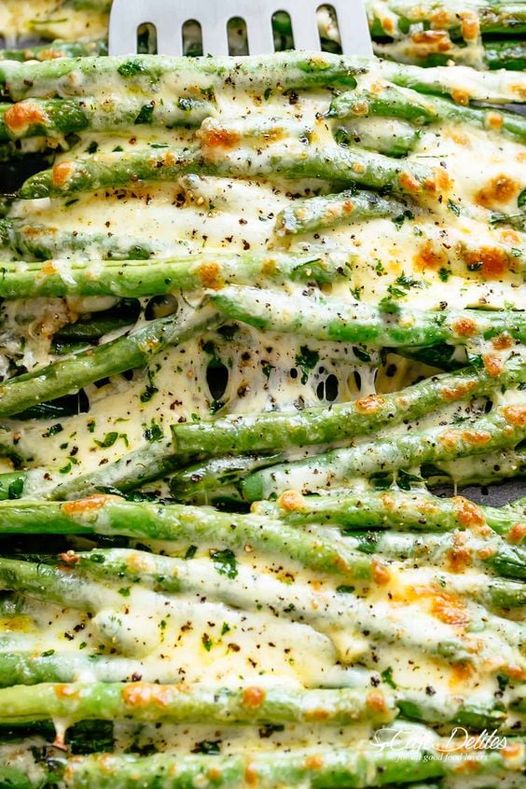 Elevate the humble green bean to new heights of flavor with our Cheesy Garlic Green Beans. This dish is a celebration of the simple yet delightful union of crisp green beans, aromatic garlic, and the irresistible allure of melted cheese. Imagine tender green beans lightly sautéed to retain their vibrant color and freshness, then enhanced with the rich complexity of sautéed garlic. As a final flourish, a generous sprinkle of melted cheese creates a harmonious blend of textures and tastes that's as indulgent as it is comforting. With each bite, you'll experience the satisfying crunch of green beans, the warmth of garlic, and the creamy decadence of cheese. Whether as a side dish that steals the show or a star on its own, our Cheesy Garlic Green Beans are a delicious reminder that even the simplest ingredients can transform into a culinary masterpiece. Join us in savoring this symphony of flavors that invites you to explore the magic that can be woven from just a handful of ingredients.
Cheesy Garlic Green Beans
Ingredients
1 pound (500 g) green beans, ends trimmed

1/4 cup olive oil

2 tablespoons fresh parmesan cheese shredded

1 tablespoon minced garlic (or 4 cloves garlic, minced)

3/4 teaspoon Kosher salt

1/4 teaspoon fresh cracked black pepper

1 1/4 cup mozzarella cheese shredded
Directions
Preheat oven to 425°F (220°C). Lightly grease a baking sheet with nonstick cooking oil spray.
Arrange green beans on baking sheet in a single layer. Set aside.
In a small bowl mix together olive oil, parmesan, garlic, salt and pepper. Drizzle the oil mixture over the green beans and toss to evenly coat.
Bake for 20 minutes until vibrant and tender-crisp.
Remove from oven and top with the mozzarella cheese. Return to oven and broil (or grill) until the cheese melts and becomes golden (about 4-5 minutes).
Season with salt and pepper, if desired. Serve immediately.