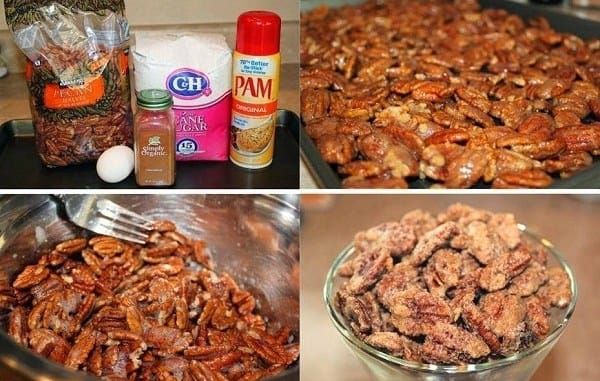 Embark on a journey of irresistible sweetness and nutty delight with our Cinnamon Sugar Pecans. These little gems are a testament to the magic that happens when the simplest ingredients come together in perfect harmony. Imagine plump, buttery pecans coated in a delicate layer of cinnamon-kissed sugar, creating a symphony of flavor that's both rich and enchantingly spiced. With each bite, you'll experience the satisfying crunch of nuts juxtaposed with the sweet warmth of cinnamon, a combination that's as comforting as it is indulgent. These pecans are more than just a snack – they're a treat that transforms ordinary moments into moments of pure bliss. Whether enjoyed on their own, sprinkled over desserts, or used to elevate salads and dishes, our Cinnamon Sugar Pecans invite you to savor the magic of simple pleasures and the joy of a perfectly balanced bite. Join us in discovering the enchantment that these little delights bring to your palate, one nutty nibble at a time.
Cinnamon Sugar Pecans
Ingredients
1 egg white

2 teaspoons water

2 teaspoons pure vanilla extract

1lb pecan halves (1 pound)

1 cup sugar

½ – 1 tablespoon ground cinnamon (your preference)

½ teaspoon salt
Directions
Preheat oven to 250 degrees
Spray a baking sheet with cooking spray
Mix sugar, cinnamon and salt in a large ziploc bag
Whisk egg white, water and vanilla in a large bowl until frothy (you can use a fork or electric mixer, either works just fine)
Add pecans to large bowl and stir to combine, coating each pecan in egg white mixture
Pour coated pecans into ziploc bag, seal and shake to fully coat in cinnamon/sugar mixture
Spread out in a single layer onto prepared baking sheet
Bake for 1 hour, stirring every 20 minutes.