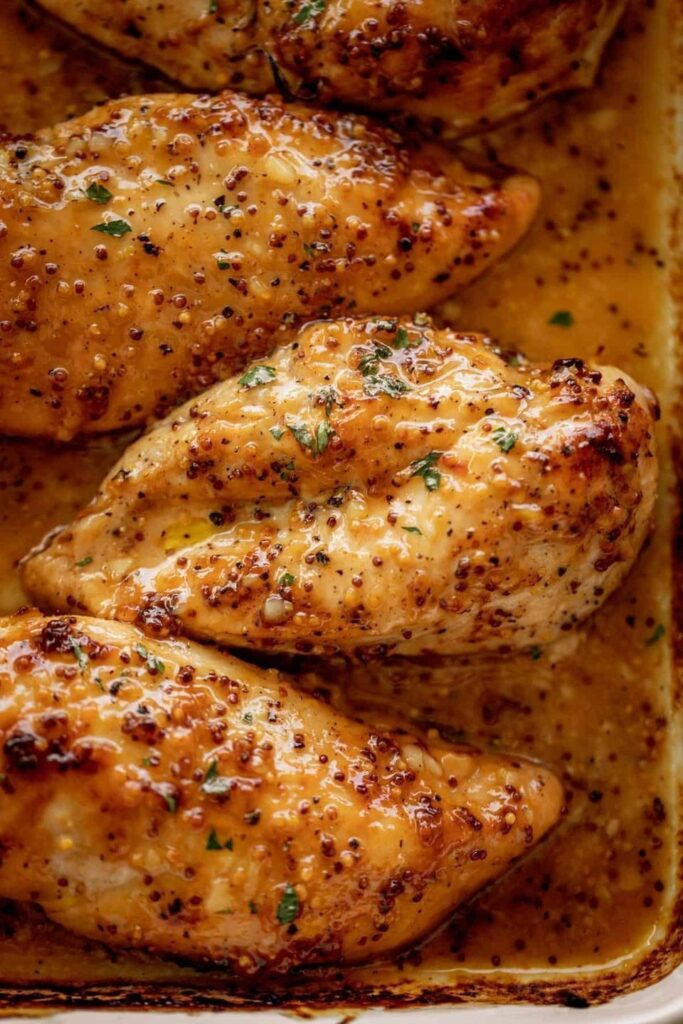 "Experience the perfect marriage of sweet and tangy flavors with our Chicken with Honey Mustard recipe. This delightful creation brings together tender chicken breasts with a luscious honey mustard glaze, resulting in a dish that's both comforting and gourmet. Imagine succulent chicken, perfectly cooked and adorned with a glossy coating of honey mustard sauce that's rich in flavor. With each forkful, you'll savor the harmonious blend of savory and sweet, capturing the essence of comfort food and the joy of savoring the balance of contrasting tastes. Whether enjoyed as a weeknight dinner option, a way to elevate your chicken game, or a celebration of the art of transforming simple ingredients into culinary delights, our Chicken with Honey Mustard promises a culinary journey that captures the heart of flavor harmony and the pleasures of savoring the richness of a perfectly balanced dish."
Chicken With Honey Mustard
Ingredients
1 pound of boneless chicken breast, cut thin

4 tbsp honey

4 tbsp dijon mustard

2 cloves fresh garlic, minced

1 bunch asparagus, cut the ends off
Directions
FIRST STEP:
Preheat the oven to 400*
In a small bowl mix together the mustard, garlic and honey, save some for serving
SECOND STEP:
Spray a baking dish with nonstick cooking spray
Toss the asparagus with a little of the honey mustard and place into the baking dish
THIRD STEP:
Place the chicken on top of the vegetables and spread some of the sauce on the top of the chicken
FOURTH STEP:
Flip the chicken over and coat this side with sauce.
Bake for 35 to 40 minutes, or until a thermometer comes out reading 165*
Serve with a little more of the honey mustard sauce
Notes
The asparagus can be swapped out with other vegetables of your choice. Carrots work well with this dish, as does broccoli and cauliflower.
This is a simple and fast put together dinner that the family and all who get the pleasure of tasting it will thoroughly enjoy.
You can also use other cuts of chicken, I prefer the boneless and skinless breasts, but boneless thighs can be just as tasty.
If you want to try, you could purchase a bulk pack of drumsticks and wings and cook them up using the sauce recipe.
There may be many other variations you can try. Let us know how they turn out.