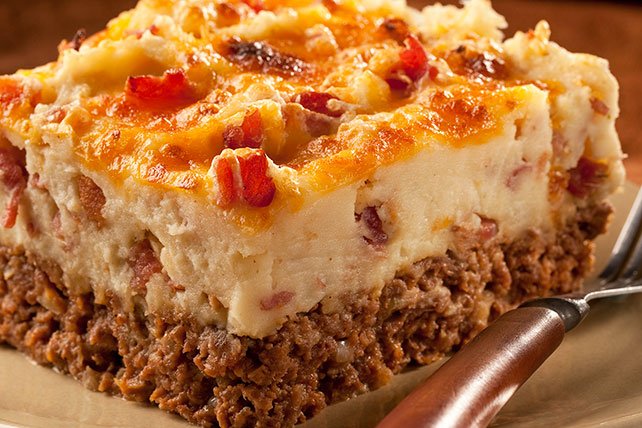 Saddle up for a hearty and savory culinary journey with our Cowboy Meatloaf and Potato Casserole. This dish captures the rugged spirit of the Wild West and elevates it to a level of comfort and flavor that's simply irresistible. Imagine tender, seasoned meatloaf nestled atop a bed of creamy, golden-brown potatoes, all baked together to create a symphony of taste and textures. With each forkful, you'll experience the robust flavors of well-spiced meat mingling with the comforting creaminess of potatoes, invoking memories of campfires and open landscapes. This casserole embodies the heartiness of cowboy fare, with a modern twist that brings together the best of two culinary worlds. Whether shared with loved ones around the dinner table or prepared for a gathering of friends, our Cowboy Meatloaf and Potato Casserole is a tribute to bold flavors and the joy of a satisfying meal. Join us in savoring this fusion of rustic charm and modern comfort, where every bite is a taste of the frontier, right in the heart of your home.
Cowboy Meatloaf and Potato Casserole
Ingredients
1 Pound Lean Ground Beef

3/4 Cup Finely Chopped Onion

1/3 Cup Seasoned Dry Breadcrumbs

1/4 Cup Jack Daniels® Honey Smokehouse Barbecue Sauce

1 Egg, lightly beaten

2 Teaspoons Chili Powder

3/4 Teaspoon Salt

1 Package Ore-Ida® Steam n' Mash Cut Russet Potatoes

2/3 Cup Canned Evaporated Milk

1 Tablespoon Butter

1 Tablespoon Chopped Fresh Flat-Leaf Parsley

1 Teaspoon Garlic Powder

1 Cup Cooked Bacon Crumbles

1/4 Cup Canned Crispy Fried Onions

2/3 Cup Shredded Mexican-style Cheese Blend
Directions
Preheat oven to 375°F. Coat 9×9 baking dish with nonstick cooking spray. In a large bowl, combine beef, onion, breadcrumbs, Barbecue Sauce, egg, chili powder and salt until well mixed. Gently press into bottom of baking dish.
Bake uncovered for 20 to 25 minutes, or until cooked through. Remove from oven and carefully pour off any excess fat if needed. Adjust oven temperature to broil and place oven rack 6 to 8 inches from heat source.
Meanwhile, microwave Potatoes according to package instructions. In a large bowl, mix together hot Potatoes, milk, butter, parsley and garlic, and mash with a potato masher until smooth. For a smoother consistency, mix with an electric mixer to desired consistency. Stir in bacon and fried onions. Spread evenly on top of beef mixture and sprinkle with cheese.
Broil for 3 to 5 minutes, or until cheese is lightly browned. Serve hot with additional Barbecue Sauce if desired.