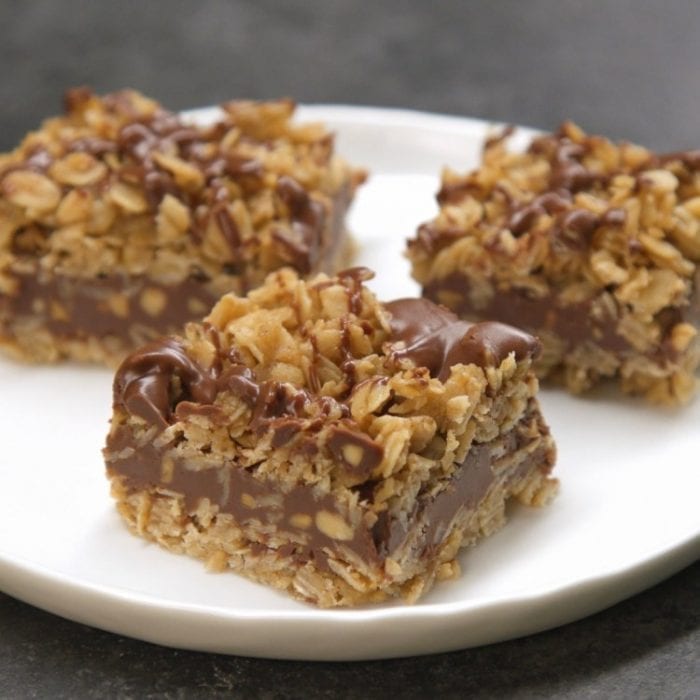 Satisfy your sweet cravings with a delightful treat that requires no oven time – our exquisite No-Bake Chocolate Oat Bars. These bars are a testament to the harmonious marriage of flavors and convenience, offering a decadent experience without the need for baking. Picture a luscious layer of velvety chocolate, perfectly balanced by the wholesome goodness of oats. As you take your first bite, you'll experience a delightful dance of textures – the smoothness of the chocolate mingling with the satisfying chewiness of oats. With a hint of nutty goodness and a touch of sweetness, these bars capture the essence of indulgence in every bite. Whether enjoyed as a quick snack, a lunchbox treat, or a guilt-free dessert, our No-Bake Chocolate Oat Bars redefine the art of convenience without compromising on flavor. Join us in savoring a taste sensation that proves that sometimes, the best things in life require no oven, just a love for scrumptious simplicity.
No Bake Chocolate Oat Bars
Ingredients
1 cup butter

1/2 cup packed brown sugar

1 teaspoon vanilla extract

3 cups quick cooking oats

1 cup semisweet chocolate chips

1/2 cup peanut butter
Directions
Grease a 9×9 inch square pan.
Melt butter in large saucepan over medium heat. Stir in brown sugar and vanilla. Mix in the oats. Cook over low heat 2 to 3 minutes, or until ingredients are well blended. Press half of mixture into the bottom of the prepared pan. Reserve the other half for topping.
Meanwhile, melt chocolate chips and peanut butter in a small heavy saucepan over low heat, stirring frequently until smooth. Pour the chocolate mixture over the crust in the pan, and spread evenly with a knife or the back of a spoon.
Crumble the remaining oat mixture over the chocolate layer, pressing in gently. Cover, and refrigerate 2 to 3 hours or overnight. Bring to room temperature before cutting into bars.