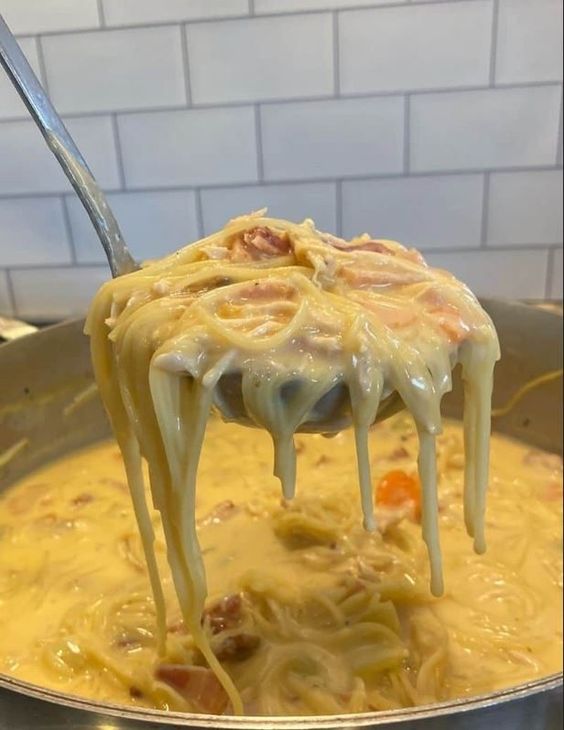 Dive into a bowl of pure comfort and flavor with our tantalizing Crack Chicken Soup. This delightful concoction takes the beloved Crack Chicken recipe to new heights, enveloping it in a rich and soul-soothing soup that's perfect for warming both body and soul. Imagine tender shreds of succulent chicken, mingling with the savory allure of crispy bacon and the creaminess of cheese. As these flavors meld together, they create a symphony of taste that's as addictive as it is satisfying. With a base of velvety broth and an array of carefully selected spices, each spoonful is an experience that tantalizes the senses and leaves you craving more. Whether you're seeking a hearty meal on a chilly evening or a bowl of familiarity that brings a smile to your face, our Crack Chicken Soup is the ultimate embodiment of comfort in a dish. Join us in savoring the indulgent embrace of flavors that have captured the hearts and palates of countless food enthusiasts.
Crack Chicken Soup
Ingredients
2 C. Shredded chicken

1 Can cream of chicken soup

1 C. Milk

6 C. Chicken broth

8 oz. Cream cheese

½ C. Carrots diced

½ C. Celery diced

1 Onion chopped

10 Slices of bacon cooked and crumbled

2 Tbsp. Ranch seasoning mix

3 tsp. Minced garlic

½ tsp. Garlic powder

2 C. Shredded cheddar cheese

8 oz. Angel hair pasta

Salt and pepper to taste

1 Tbsp. Olive oil
Directions
Place the olive oil in a large pot over medium high heat.
Add the celery, onion and carrots to the pot, and saute until becoming tender.
Whisk together the milk and can of soup in a bowl, and then pour into the pot
Place the ranch seasoning, garlic and garlic powder into the pot along with salt and pepper to taste.
Add the cream cheese to the pot and stir until the cheese is completely melted.
Pour the chicken broth into the pot and bring the mixture to a boil.
Mix the shredded chicken and crumbled bacon into the pot, reduce the heat to low and simmer for 20 minutes.
Stir in the shredded cheddar cheese and angel hair pasta broken in half into the pot. Continue to cook on low until the pasta is tender.
Enjoy!