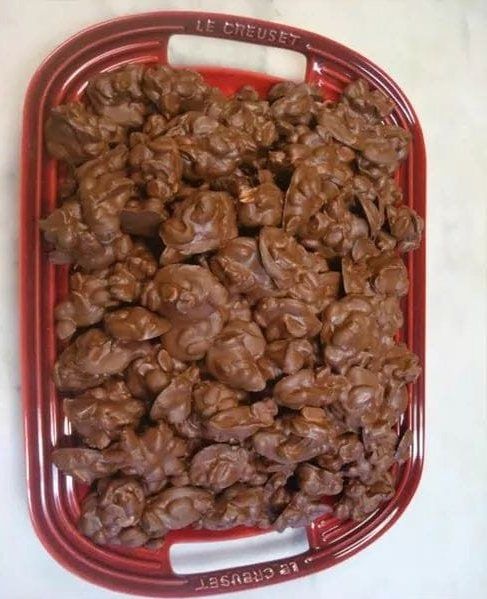 "Step into the enchanting world of holiday flavors and irresistible treats with our Crockpot Christmas Crack. This delightful creation captures the essence of the festive season in a deliciously addictive dessert that's as easy to make as it is delightful to savor. Imagine a medley of salty crackers layered with a rich caramel sauce, lovingly infused with the warmth of holiday spices. Topped with a generous layer of velvety chocolate and a sprinkle of festive decorations, each bite is a harmonious blend of sweet, salty, and indulgent flavors that dance on your taste buds. Whether crafted as a heartwarming gift for loved ones, a show-stopping addition to holiday dessert tables, or a way to bring a touch of seasonal magic to your kitchen, our Crockpot Christmas Crack promises a journey of taste that captures the joy and sweetness of the holidays in every delectable morsel."
CROCKPOT CHRISTMAS CRACK
Ingredients
16 Oz. Salted Peanuts

16 Oz. Unsalted Peanuts

2 12 Oz. Bags Semi-Sweet Chocolate Chips

2 10 Oz. Bags Peanut Butter Chips

2 10 Oz. Bags White Chocolate Chips Or Wafers

Christmas Sprinkles
Directions
Layer the peanuts in the bottom of the Crockpot and mix to combine.
Add the remaining ingredients in layers over the peanuts.
Cook on low for 2 hours.
Remove the lid and stir completely.
Return the lid, and cook for another 30 minutes on low.
Drop the candy by the spoonful onto parchment lined baking sheets or into mini cupcake liners.
Top with Christmas colored sprinkles and let harden before serving.
Enjoy!