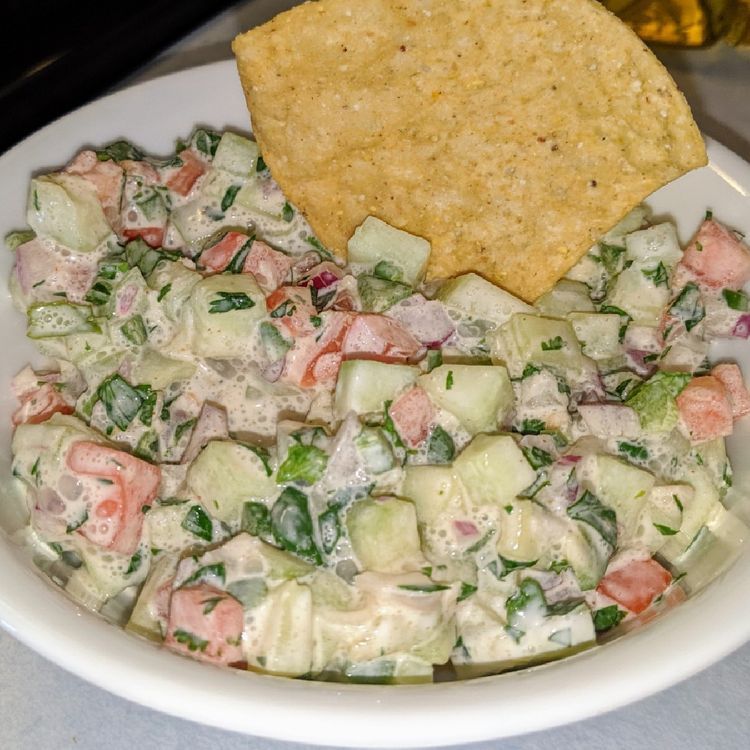 "Dive into a refreshing symphony of textures and vibrant flavors with our Crunchy Salsa with Fresh Cucumbers. This delightful creation takes the beloved classic salsa and infuses it with the crisp and juicy essence of cucumbers, resulting in a delightful fusion of garden-fresh goodness. Imagine a medley of diced cucumbers, vibrant tomatoes, zesty onions, and aromatic herbs, all tossed together in a tangy dressing that dances on your palate. With every chip-dipping scoop, you'll experience the harmonious blend of cool crunchiness and the zest of tomatoes, capturing the essence of refreshing appetizers and the joy of savoring summer's bounty. Whether enjoyed as a light snack, a way to elevate your salsa game, or a celebration of the art of creating vibrant and invigorating flavors, our Crunchy Salsa with Fresh Cucumbers promises a culinary journey that captures the heart of freshness and the pleasures of embracing the beauty of garden-to-table delights."
Crunchy Salsa With Fresh Cucumbers
Ingredients
2 cups cucumber, finely chopped (peeling optional)

1/4 cup red onion, chopped

1/2 cup seeded tomato, finely chopped

1/4 tsp cumin, group

1-1/2 tsp lime juice

1 jalapeno pepper, chopped and seeded

4-1/2 tsp cilantro, chopped

1 garlic clove, minced

1/4 c sour cream

1-1/2 tsp lemon juice

1-2 tbsp parsley, minced

1/4 tsp seasoned salt

Tortilla chips for dipping
Directions
FIRST STEP:
Combine lemon juice, sour cream, cumin, salt, and lime juice in a bowl to make the 'salsa sauce'.
Stir and set aside.
SECOND STEP:
Combine all other ingredients in a separate bowl.
THIRD STEP:
Pour the salsa sauce over the vegetable and gently flip to cover.
FOURTH STEP:
Refrigerate for at least one hour.
Serve with chips or as a topping!
Notes
I don't peel the cucumbers and leave the skin on. The vegetable is crisp and delectable! The green in the salsa is also gorgeous and aesthetically pleasing as well.
Definitely try it will the peeling on first.
Salsa can be challenging to serve to multiple people. Everyone has different taste buds and preferences.
I have never run into any opposition with this recipe! It has always pleased each taste preference.
Crunchy Salsa with Cucumber has always been a hit when I take it to a party, potluck, BBQ, etc. Served with tortilla chips, it also a nice cool dip for lunch.