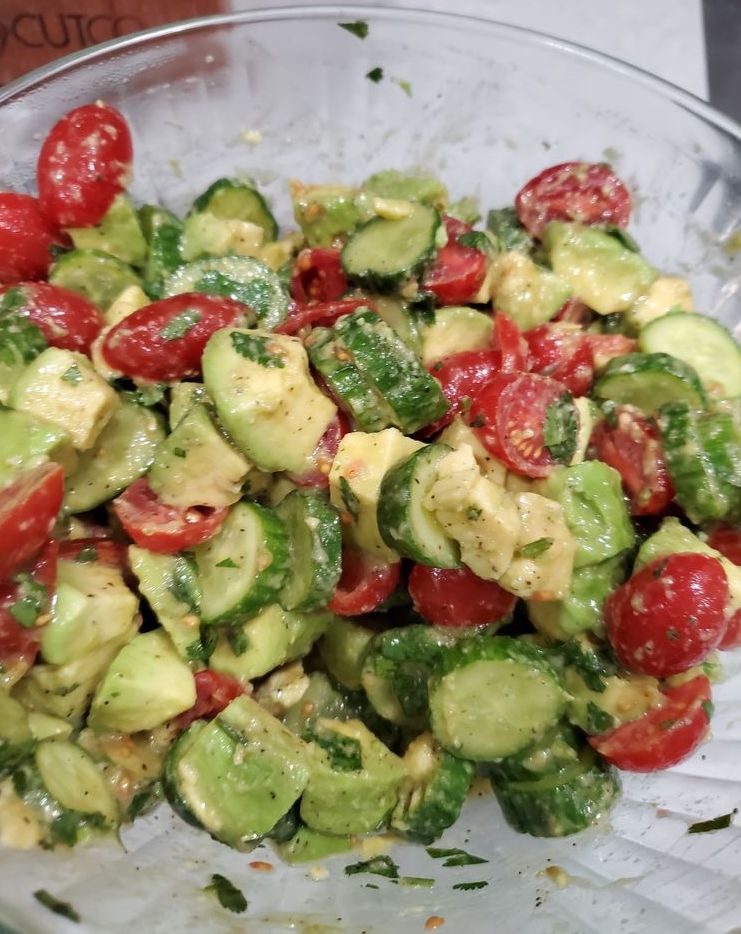 Step into a world where vibrant colors, fresh ingredients, and harmonious flavors combine to create a culinary masterpiece — the Cucumber, Tomato, and Avocado Salad. This salad is a celebration of nature's bounty, where the crispness of cucumbers, the juiciness of tomatoes, and the creaminess of avocados unite to form a symphony of textures and tastes that refresh and invigorate. With each bite, you'll experience the cool crunch, the burst of sweetness, and the smooth, velvety finish that encapsulates the essence of seasonal delight. As we embark on a journey to uncover the secrets behind this simple yet stunning dish, we'll explore the art of balance, the techniques that bring out the best in each ingredient, and the pure joy that Cucumber, Tomato, and Avocado Salad brings to tables, picnics, and meals shared with loved ones.
CUCUMBER, TOMATO, AVOCADO SALAD
Ingredients
3 Small Avocados (Diced)

12 Oz. Cherry Tomatoes Halved

2 English Cucumbers Diced

2 tbsp. Lemon Juice

¼ cup Parsley (Chopped)

2 tbsp. Olive Oil

Salt And Pepper To Taste
Directions
Place the chopped avocados in a bowl.
Add in the diced cucumber and sliced tomatoes, and stir to combine.
Mix in the lemon juice, parsley and 2 Tbsp of olive oil.
Season with salt and pepper to taste.
Toss well to combine before serving.