Just three ingredients, made with yogurt, cool whip, and pudding mix! It's super creamy and perfectly for parties!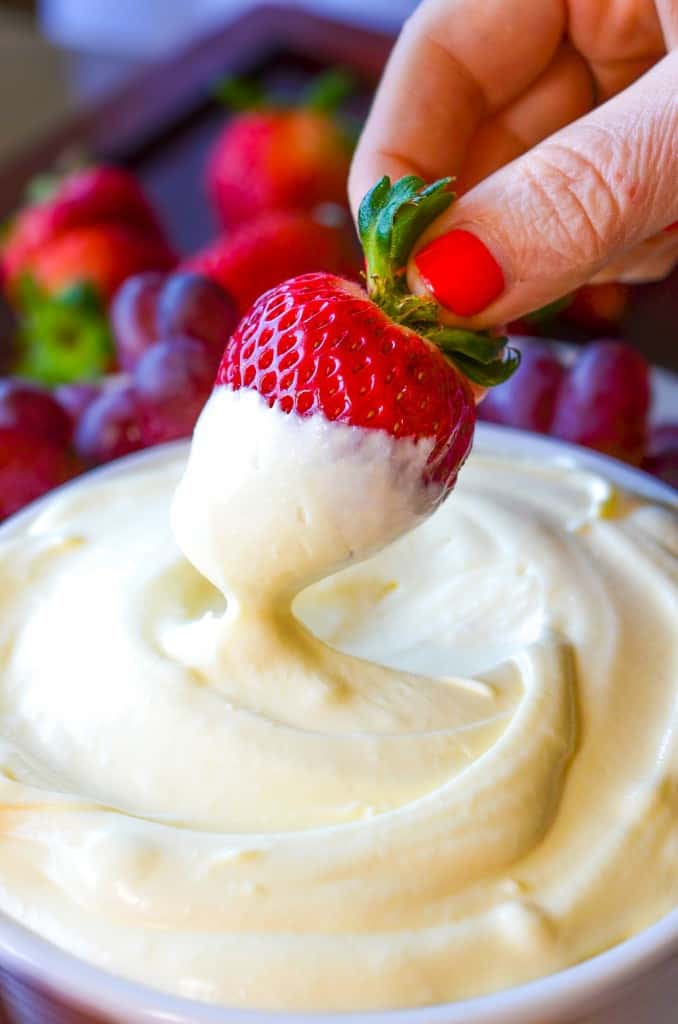 What is Fruit dip made of?
There's only three ingredients! Vanilla yogurt (I love Stoneyfield), cool whip, and instant pudding mix. The instant part is important because the fruit dip never gets cooked.
Lots of fruit dips have cream cheese in them. But this one does not! We like a lighter and fluffier dip.
Does Fruit Dip have to be refrigerated?
Yes! You need to refrigerate the fruit dip because of the yogurt and cool whip. Setting it out for a party is okay. Just refrigerate before and after the party!
Can you make this fruit dip recipe ahead of time?
Yes! I actually always make the dip the night before because it gives the pudding time to dissolve into the yogurt and cool whip.
Ingredients:
1 (32 ounce) container Low-Fat Vanilla Yogurt
1 (8 ounce) container Lite Cool Whip
1 (3.4 ounce) box dry instant vanilla pudding mix
Fruit for serving
Directions:
In a large bowl, mix together vanilla yogurt, Cool Whip, and pudding mix until completely combined and you see no more lumps. The mixture will be a little bit gritty at first because the pudding hasn't had a chance to dissolve into the yogurt mixture yet.

Cover with plastic wrap and allow to chill for about 30 minutes. Serve with your fruit of choice and enjoy!

Store in an airtight container in the refrigerator for up to 5 days.