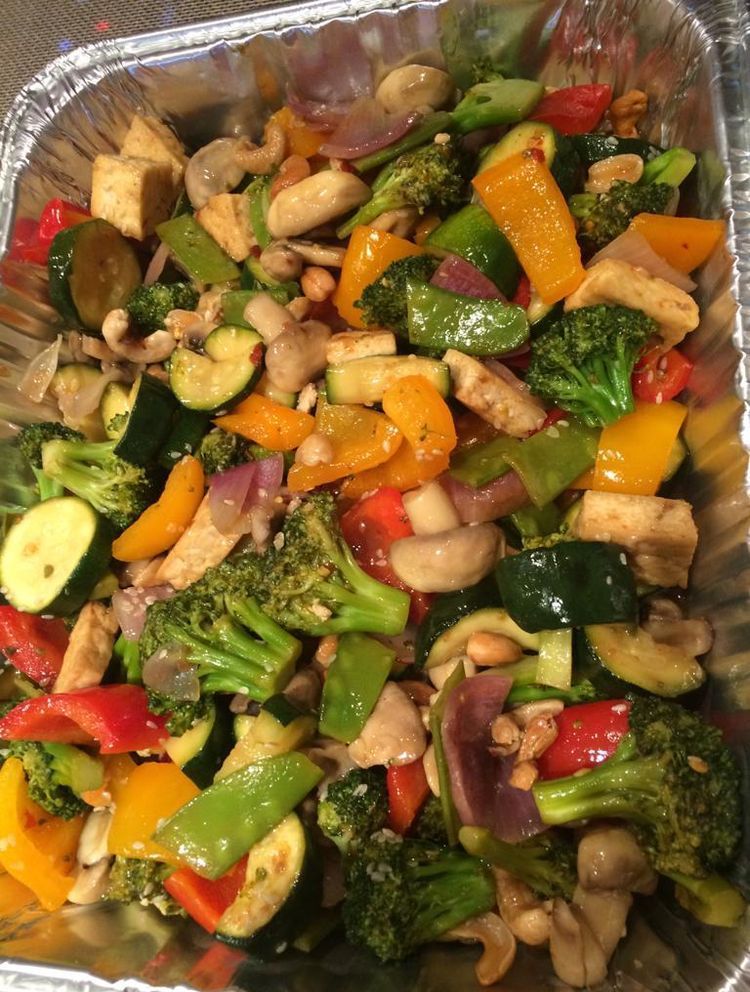 "Embark on a tantalizing journey of flavors and aromas with our Garlic Chicken Stir Fry. This mouthwatering creation combines tender strips of chicken with vibrant vegetables and a savory garlic-infused sauce, resulting in a dish that's both wholesome and bursting with umami. Imagine succulent chicken pieces, expertly seared to golden perfection and then tossed with a colorful array of crisp vegetables. The star of the show is the rich and aromatic garlic sauce that coats every ingredient, creating a symphony of flavors that dance on your palate. With each bite, you'll savor the harmonious blend of savory and fresh, capturing the essence of Asian-inspired cuisine and the joy of savoring a well-balanced and satisfying meal. Whether enjoyed as a quick weeknight dinner, a way to explore the beauty of stir-frying, or a celebration of the art of creating restaurant-quality dishes at home, our Garlic Chicken Stir Fry promises a culinary journey that captures the heart of bold flavors and the pleasures of savoring the perfect balance of taste and texture."
Garlic Chicken Stir Fry
Ingredients
1 lb. Boneless skinless chicken breast cut into cubes

1 tbsp + 1 tsp Olive oil divided

1 Yellow bell pepper sliced

1 c Sliced mushrooms

2-3 c Broccoli Florets

4 Cloves garlic minced

Salt and pepper to taste

1 tbsp Soy sauce

¾ c. Chicken broth

1 ½ tsp Sugar

2 tsp Sesame oil

2 tsp Cornstarch
Directions
Heat 1 tbsp of olive oil in a skillet over medium-high heat.
Add the broccoli, sliced mushrooms and yellow bell pepper to the heated skillet, and cook for 5-6 minutes until the vegetables begin to become tender. Remove the vegetables, cover them and set aside for later.
Place one teaspoon of olive oil in the heated skillet, and add the chicken breast pieces. Cook until the chicken is no longer pink in the center and cooked through. Add salt and pepper to taste.
Mix the vegetables back into the skillet.
In a separate bowl, combine the soy sauce, sugar, chicken broth, sesame oil and cornstarch, and mix well.
Pour the sauce over the chicken and vegetables in the skillet, and stir to coat. Cook for 2-3 minutes until everything is coated well and the sauce has thickened.
Serve over white rice if you desire.