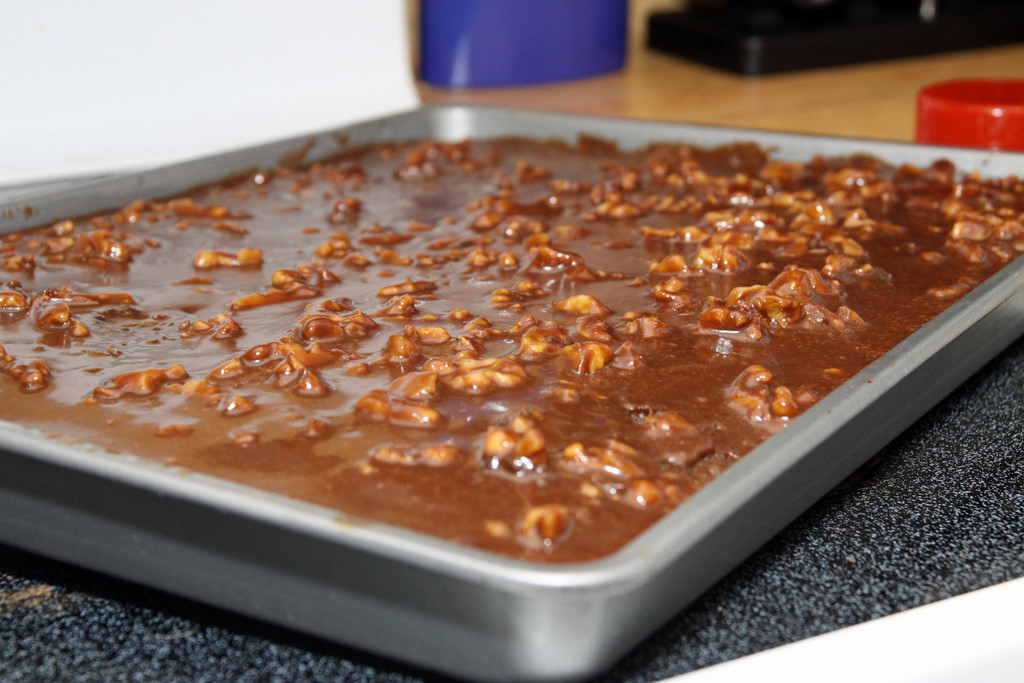 "Experience the warmth and nostalgia of cherished family recipes with Granny's Chocolate Texas Sheet Cake. This delightful creation captures the essence of comforting flavors and homemade goodness, transporting you back to the kitchen of a beloved grandmother. Imagine a generous sheet of moist and tender chocolate cake, drenched in a glossy layer of rich, fudgy icing that's both sweet and indulgent. Each bite offers a symphony of textures and tastes that dance on your palate, evoking memories of love-filled gatherings and shared moments around the table. With every forkful, you'll savor the delightful contrast of velvety cake and the luxurious richness of the icing, capturing the heart of classic desserts and the joy of enjoying treats that have been passed down through generations. Whether enjoyed as a centerpiece dessert for celebrations, a reminder of the love poured into family traditions, or a celebration of the art of baking with heart and soul, Granny's Chocolate Texas Sheet Cake promises a culinary journey that captures the essence of home and the pleasures of savoring the sweet connections that food brings."
Granny's Chocolate Texas Sheet Cake
Ingredients
2 C flour but not really.. more like 1 C and just a hair shy of another cup..1 C and 1 not quite level cup

2 C sugar

1/2 tsp. salt

1 tsp baking soda

2 sticks margarine The original recipe calls for oleo. ******* You can use butter instead of margarine. 2 sticks (1 Cup)

1 C water

3 Tbsp. Cocoa

2 eggs

1/2 C buttermilk

1 tsp. vanilla

1 tsp. cinnamon

Frosting

1 stick margarine or 1 Stick Butter 1/2 Cup

3 Tbsp. cocoa

6 Tbsp. milk 1/4 Cup plus 2 Tbsp in dry measuring cups or 3 oz in liquid measuring cups

1 box 16 oz confectioners (powdered) sugar

1 C chopped pecans or walnuts

1 tsp. vanilla.

1/2 tsp cinnamon
Directions
For The Cake
Stir flour (I use a little less than 2 full cups), sugar, salt.
In sauce pan put margarine, cocoa and water. Stir while bringing to a boil. Pour over the flour mixture.
Stir eggs, soda, buttermilk, cinnamon and vanilla together. Add to the flour/cocoa mixture.
Bake in greased sheet cake (10×15) pan for 18 minutes on 350.
minutes before cake is done make the icing.
For The Frosting
Mix together; cocoa, margarine and milk. Heat and then add nuts, powdered sugar, cinnamon and vanilla.
Pour over hot cake and allow to cool.