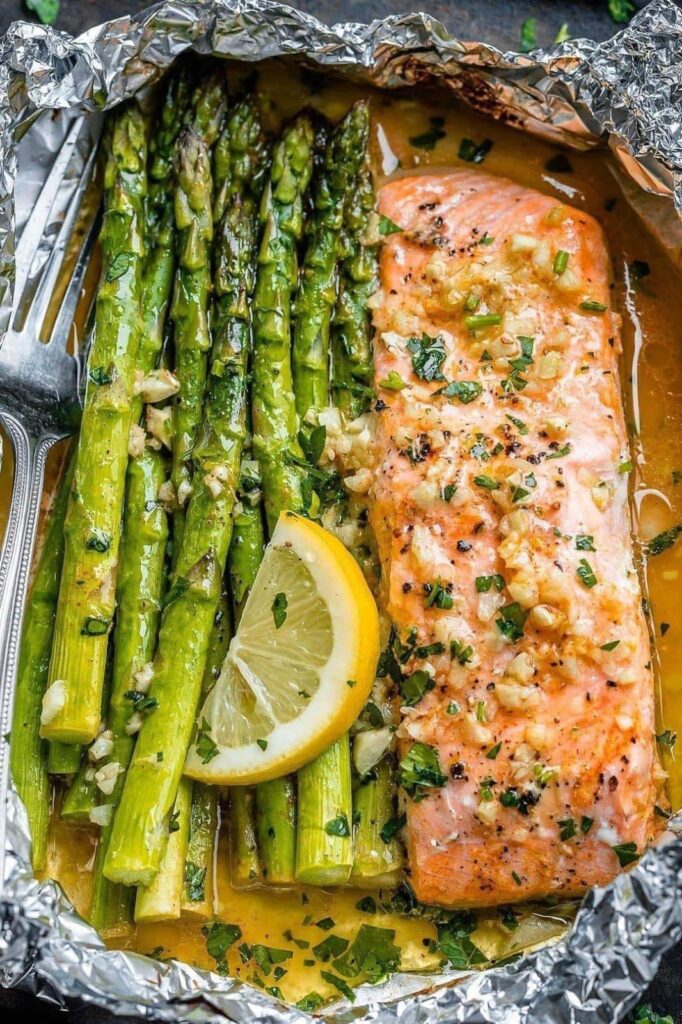 "Embark on a culinary adventure of wholesome simplicity with our One Pan Salmon and Asparagus. This delightful creation marries the delicate flavors of tender salmon with the vibrant freshness of asparagus, all cooked to perfection on a single pan. Imagine succulent salmon fillets, seasoned with aromatic herbs and zesty lemon, nestled alongside crisp asparagus spears that soak up all the savory goodness. With every forkful, you'll savor the harmonious blend of succulent fish, vibrant greens, and the brightness of lemon, capturing the essence of healthy and flavorful cooking with minimal effort. Whether enjoyed as a balanced weeknight dinner, a way to embrace the beauty of one-pan cooking, or a celebration of the joy in combining simple ingredients into a symphony of tastes, our One Pan Salmon and Asparagus promises a culinary journey that captures the heart of nourishment and the pleasures of savoring uncomplicated, yet utterly satisfying flavors."
One Pan Salmon and Asparagus
Ingredients
For the Salmon and Asparagus:

1 1/2 to 2 lb salmon filet

2 bunches, 2 lbs asparagus

Salt and Black Pepper

1 Tbsp Olive Oil, to drizzle asparagus

1/2 large lemon, sliced into rings for garnish

For the Flavored Butter:

6 Tbsp 85 grams* unsalted butter, softened (**see quick softening tip)

2 Tbsp fresh lemon juice, from 1/2 large lemon

2 garlic cloves, pressed

2 Tbsp fresh parsley, finely chopped, plus more to garnish

1 tsp salt

1/4 tsp black pepper
Directions
Prep:
Preheat oven to 450˚F with oven rack in top third of oven. Line a large rimmed baking sheet with parchment paper and trim paper so edges to fit the pan, otherwise it can char in the oven, especially when broiling.
How to Make One-Pan Salmon and Asparagus:
In a small bowl, mash together all flavored butter ingredients, mashing and stirring until lemon juice is incorporated into butter then set aside. It takes a couple minutes but it will come together.
Place salmon filet skin-side-dow in the center of your baking pan. Rinse asparagus and break off fibrous ends by holding the base end and breaking it wherever it snaps. Arrange asparagus around salmon, drizzle asparagus lightly with olive oil. Roll asparagus to coat lightly in oil and sprinkle both asparagus and salmon with salt and pepper.
Spoon and spread 3/4 of butter mixture over salmon. Dot asparagus with remaining herb butter. Scatter with slices of lemon and bake at 450˚F for 10-12 mins (smaller 1 1/2 lb thinner fillet will take 10 min and a larger 2 lb fillet will take 12 min), then turn the oven to Broil on High and broil 2-3 minutes to give the salmon a golden glow. Bake until salmon is flaky and cooked through.