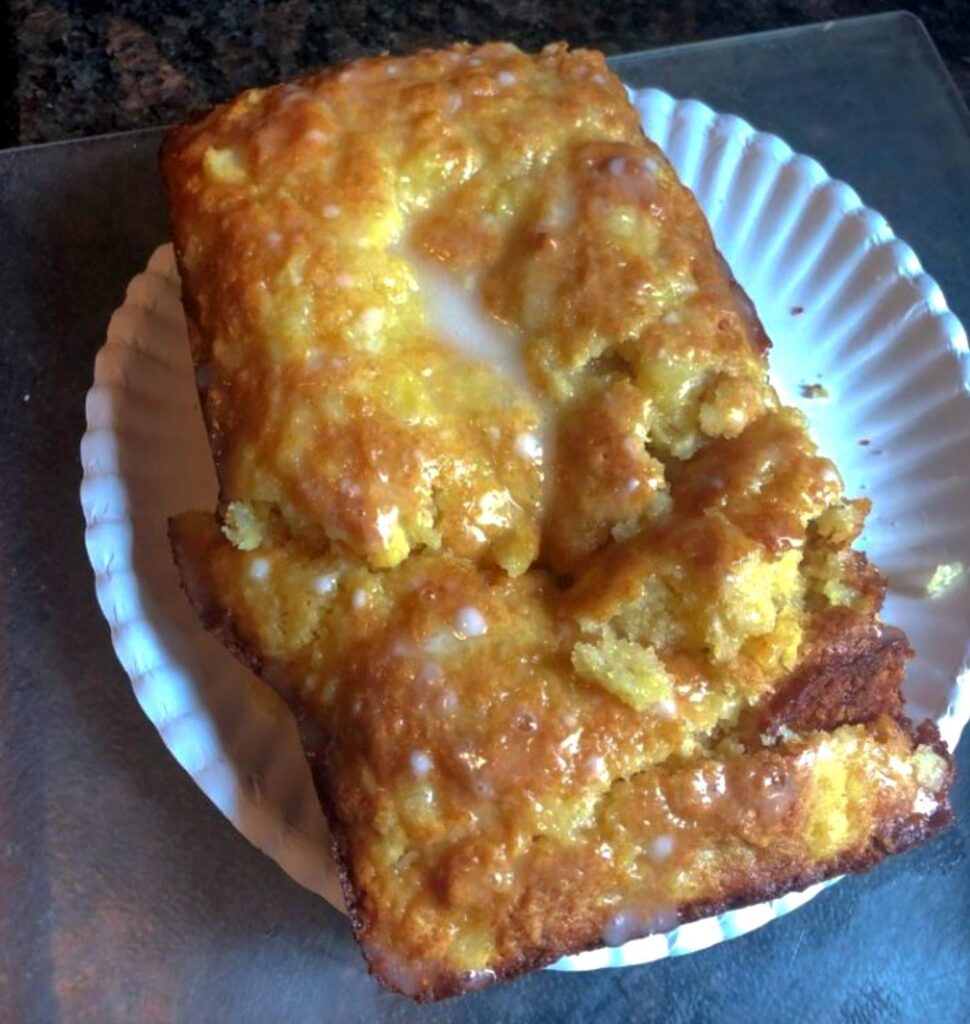 "Transport yourself to a tropical paradise with a slice of our Pineapple Bread. This delightful creation captures the essence of sun-soaked sweetness and the luscious flavors of ripe pineapples, all baked into a loaf that's both comforting and exotic. Imagine each slice revealing the golden glow of pineapple-infused batter, studded with tender chunks of the tropical fruit, creating a symphony of flavors that dance on your palate. With every bite, you'll experience the harmonious blend of juicy sweetness and the aromatic essence of pineapples, capturing the essence of vacation vibes and the joy of savoring a taste of paradise. Whether enjoyed as a delightful breakfast treat, a way to infuse your day with a touch of the tropics, or a celebration of the art of baking with tropical fruits, our Pineapple Bread promises a culinary journey that captures the heart of warmth and the pleasures of indulging in a slice of sunshine in every delightful mouthful."
Pineapple Bread
Ingredients
½ c Butter, softened

1 c Crushed pineapple , drained, but reserving the liquid separately

2 eggs, large

1 ½ c All-purpose flour

¼ c Pineapple liquid , drained from the crushed pineapple can

¼ c Sugar

2 tbsp Milk

2 tsp Baking powder

For the glaze:

2 tbsp Pineapple liquid , drained from the crushed pineapple can

1 c Confectioners sugar

1 tsp Vanilla
Directions
Heat the oven to 350 degrees.
In a bowl, sift together the flour, salt, and baking powder.
Cream together the butter and sugar in a separate bowl.
Add the eggs to the bowl with the butter.
Alternate mixing the ¼ cup of Pineapple syrup liquid and the dry ingredients into the bowl with the butter mixture until well combined.
Mix the milk into the bowl.
Fold the crushed pineapple into the mixture, and spread evenly into a well-greased loaf pan.
Bake for 50-55 minutes.
Let cool for 10-15 minutes, and then turn out onto a rack to allow to cool the rest of the way.
Stir together the ingredients for the glaze, and pour over the cooled cake. Allow the glaze to harden slightly, and serve.