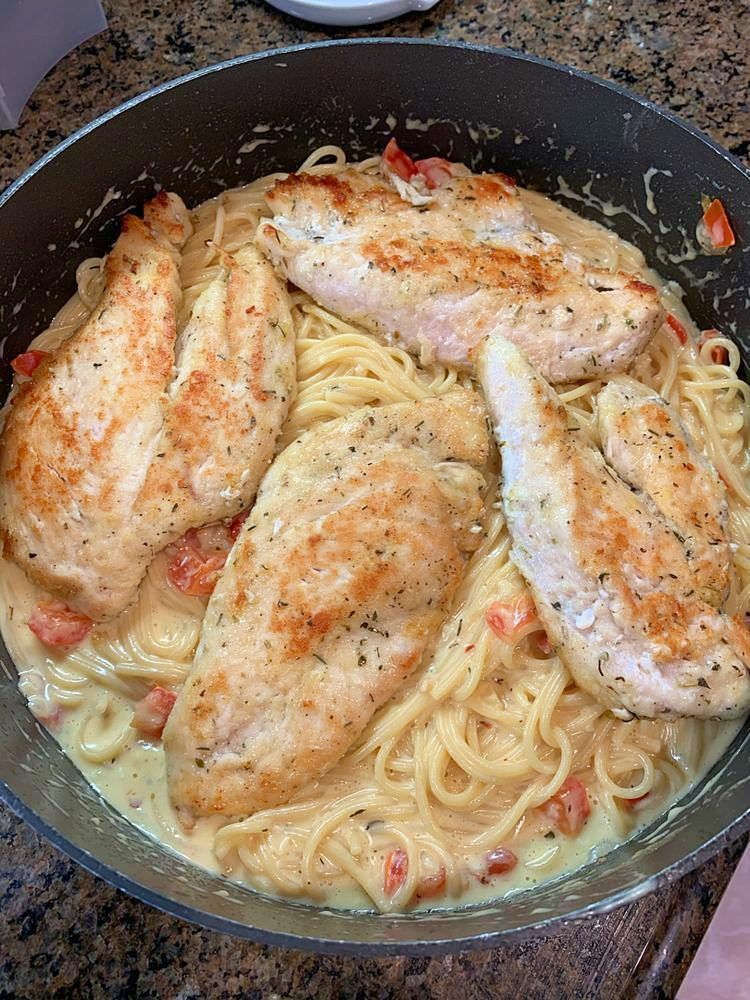 Embark on a culinary journey that traverses the landscapes of Italy, where timeless traditions and delectable flavors come together to create a dish that's both comforting and enchanting — Italian Chicken Pasta. This culinary masterpiece is a celebration of simplicity and elegance, embodying the heart of Italian cuisine with each forkful. Tender pieces of succulent chicken, perfectly cooked pasta, and a medley of aromatic herbs and vibrant tomatoes paint a vivid portrait of Italian flavors on your plate. As we delve into the essence of Italian Chicken Pasta, we'll uncover the art of achieving the perfect alchemy of flavors, the techniques that turn basic ingredients into a symphony of taste, and the sheer joy it brings to those seeking a taste of Italy's culinary magic, all in a single, satisfying dish.
Italian Chicken Pasta
Ingredients
5 Boneless skinless chicken breast cutlets

12 oz. Spaghetti noodles

½ cup. Flour

1 tsp. Salt

¼ tsp. Pepper

1 tsp. Garlic powder

2 tsp. Italian seasoning

2 Tbsp. oil

For the sauce:

4 Tbsp. Butter

1 Onion Chopped

4 tsp. Minced garlic

2 Small tomatoes diced

1 Tbsp. Flour

1 cup. White wine

1 C. Heavy whipping cream

½ C. Parmesan cheese grated

1 tsp. Italian seasoning

½ tsp. Salt

¼ tsp. Red pepper flakes
Directions
Step 1:
Cook the spaghetti according to package instructions then set it aside.
Step 2:
Add the remaining ingredients for pasta, minus the chicken, to a Ziploc bag, zip the bag and shake well to combine the ingredients.
Step 3:
Add the chicken to the Ziploc back and shake so that it is coated in the flour mix.
Step 4:
Heat oil in a large skillet over medium-high heat. Add the coated chicken to the heated oil. Cook until browned on each side and cooked through. Then remove and set aside.
Sauce
Step 5:
Melt butter in the same skillet used for the chicken, with the heat on medium. Add the onions and saute until softened,
Step 6:
Add the tomatoes and garlic to the skillet, saute for 30 seconds, then sprinkle flour and stir to combine.
Step 7:
Pour the white wine into the skillet and saute for about 3 minutes. Then stir in the red pepper flakes and Italian seasoning.
Step 8:
Whisk in the heavy whipping cream and parmesan cheese and saute until the sauce thickens.
Step 9:
Stir the cooked spaghetti into the sauce, allowing for the sauce to coat the spaghetti properly. Add the chicken back into the skillet then serve.