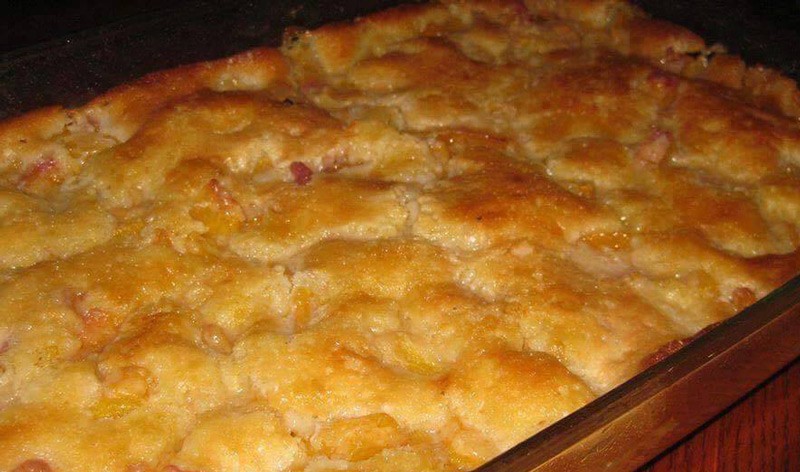 Enter the realm of effortless indulgence where the aroma of warm peaches and the comfort of a classic dessert merge to create the Lazy Man's Peach Cobbler. This delightful treat is a testament to the art of simplicity, offering all the charm of a traditional cobbler with a fraction of the effort. With layers of juicy peaches nestled beneath a tender, golden crust, this dessert invites you to experience the bliss of homemade comfort without the fuss. As we uncover the secrets behind this ingenious creation, we'll explore the magic that happens when a few basic ingredients are transformed into a dessert that's both luscious and convenient. Join us on a journey through the world of Lazy Man's Peach Cobbler, where culinary satisfaction meets the joy of uncomplicated indulgence.
Lazy Man's Peach Cobbler
Ingredients
1 C. Granulated sugar

1 C. All purpose flour

1 C. Milk

1 tsp. Baking powder

1 Stick butter or margarine melted

Dash of salt

1 Quart peaches peeled and sliced
Directions
Preheat the oven to 350 degrees.
Pour the melted butter or margarine into the bottom of a 9×13 baking dish.
In a mixing bowl, combine the flour, sugar, milk, baking powder and a pinch of salt until well combined.
Pour the batter mixture over the butter or margarine, but do not stir.
Layer the peach slices on top of the mixture in the dish, but do not stir.
Bake for 1 hour or until browned and cooked through.