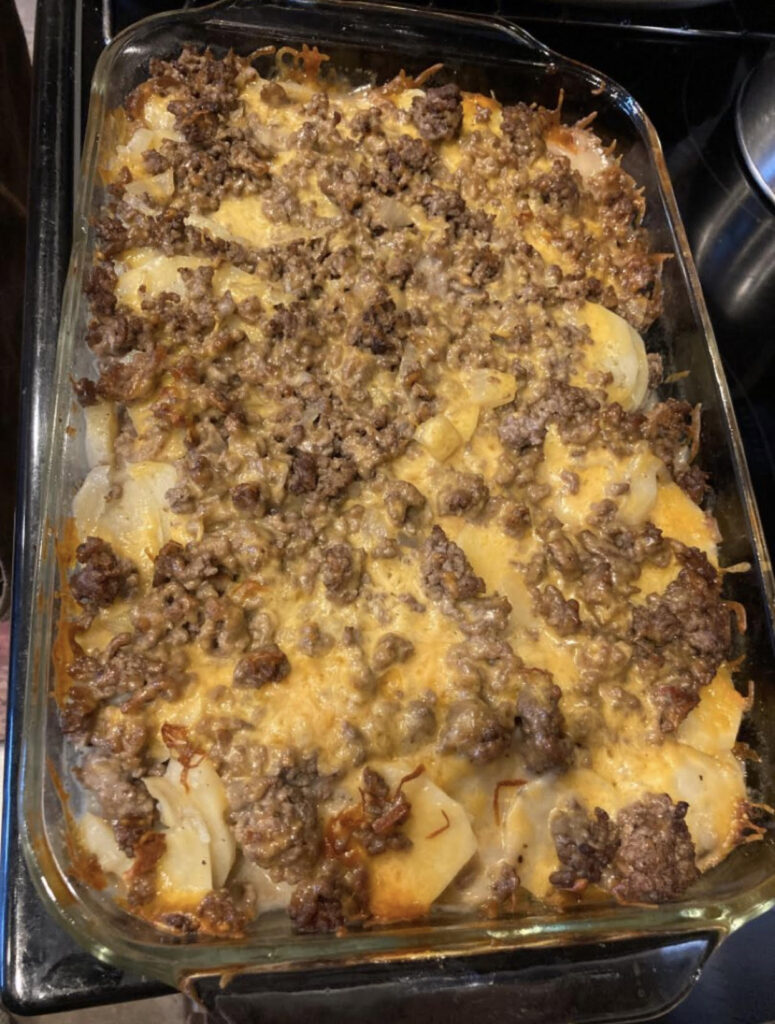 "Indulge in a satisfying harmony of flavors and textures with our Meat and Potato Casserole. This timeless dish brings together the heartiness of tender meat and the comforting embrace of potatoes, creating a culinary masterpiece that's both filling and flavorful. Imagine layers of succulent meat, whether beef, chicken, or pork, nestled amidst slices of perfectly cooked potatoes, all baked to perfection in a symphony of savory aromas. With each bite, you'll savor the combination of juicy meat, creamy potatoes, and a medley of herbs and spices that elevate the dish to a new level of comfort. Whether enjoyed as a hearty family meal, a crowd-pleasing option for gatherings, or a way to relish the magic of flavors that have stood the test of time, our Meat and Potato Casserole is a celebration of the simple pleasures of home-cooked goodness."
MEAT AND POTATO CASSEROLE
Ingredients
5 Potatoes (Peeled And Thinly Sliced)

1 Lb. Beef (Ground)

1 Can Cream Of Mushroom Soup

1 Onion (Chopped)

½ cup Beef Broth

1 tsp. Rosemary (Dried)

¼ cup Heavy Whipping Cream

½ tsp. Garlic Powder

Salt And Pepper To Taste

1 ½ cup Cheese (Shredded)
Directions
Preheat the oven to 350 degrees.
Place the ground beef and onion into a skillet over medium high heat on the stove. Cook until the meat is browned and the onions are softened. Drain the excess grease.
Mix together the rosemary, garlic powder, soup, heavy whipping cream, broth and salt and pepper to taste in a mixing bowl.
Layer ½ of the sliced potatoes in the bottom of a well greased 9×13 baking dish.
Add ⅓ of the soup mixture on top, followed by ½ of the meat mixture.
Place another layer of potatoes, ⅓ of the soup mixture and the remaining meat.
Top with the rest of the soup mixture and then sprinkle with the cheese.
Cover in aluminum foil and bake for 1 hour and 30 minutes.
Enjoy!