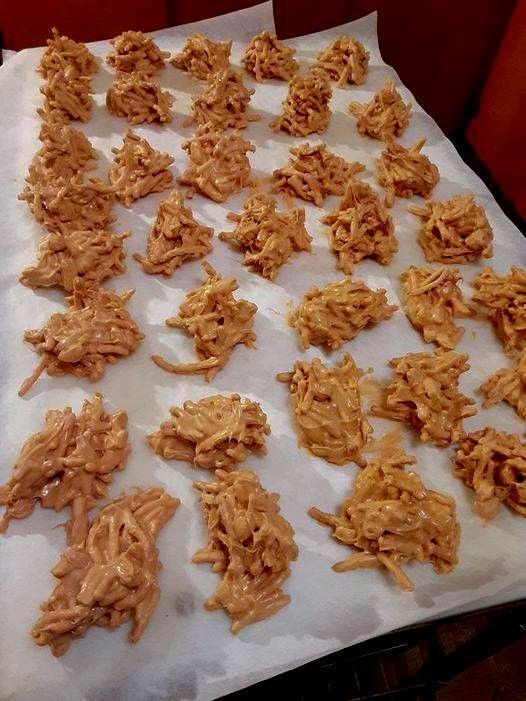 Indulge in a delightfully simple yet irresistibly delicious treat with our No-Bake Peanut Butter Haystacks. These delightful confections are a testament to the beauty of minimal effort and maximum flavor. Imagine the rich creaminess of peanut butter combined with the satisfying crunch of chow mein noodles and the sweetness of melted chocolate, all coming together in perfect harmony. With each bite, you'll experience a symphony of textures and tastes that evoke feelings of nostalgia and delight. Our No-Bake Peanut Butter Haystacks aren't just treats; they're a celebration of the joy that comes from creating something delightful with just a few ingredients and a touch of creativity. Whether crafted as an afternoon pick-me-up or shared at gatherings to put smiles on faces, these haystacks invite you to embrace the magic of simplicity in every delectable mouthful. Join us in relishing a taste that's both charmingly uncomplicated and utterly satisfying.
No Bake Peanut Butter Haystacks
Ingredients
11 oz. Butterscotch chips

5 oz. Can of crispy chow mein noodles

1 C. Creamy peanut butter

½ C. Salted peanuts
Directions
Place the peanut butter and butterscotch chips into a saucepan over medium low heat. Stir until completely melted.
Place the chow mein noodles and peanuts in a large mixing bowl, and pour the mixture over them.
Stir to combine.
Quickly drop spoonfuls of the mixture onto a parchment lined baking sheet.
Allow the haystacks to cool and harden before serving.