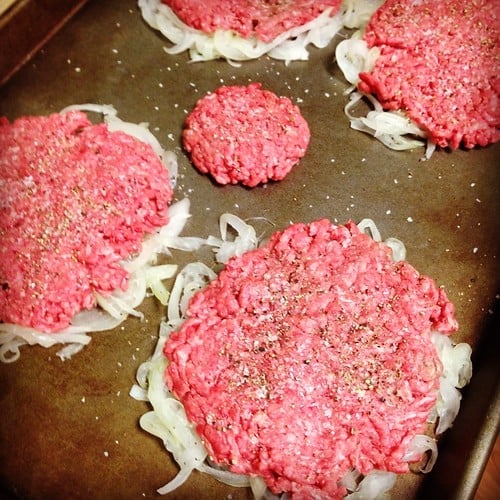 Welcome to a taste sensation that's as bold and hearty as the heartland itself – the Oklahoma Fried Onion Burger. This iconic culinary masterpiece hails from the heart of America and promises a symphony of flavors that pays tribute to tradition while pushing the boundaries of indulgence. Imagine sinking your teeth into a succulent beef patty infused with the rich, caramelized essence of fried onions, creating a harmonious marriage of textures and tastes that's nothing short of extraordinary. With a history as vibrant as its flavors, the Oklahoma Fried Onion Burger is a true embodiment of the American spirit – resilient, flavorful, and utterly satisfying. Whether you're a dedicated food enthusiast or simply seeking a taste of comfort, this burger beckons you to experience the charm of Oklahoma's culinary heritage. Join us in savoring a creation that transforms a simple burger into a symphony of regional pride and gastronomic delight.
Oklahoma Fried Onion Burgers
Ingredients
1 large onion, peeled, halved and thinly sliced

salt and pepper

1 lb ground beef

1 tablespoon butter

1 tablespoon vegetable oil

4-8 slices American cheese

Mayo, mustard and pickles, for serving

4 hamburger buns, toasted
Directions
Combine the onion slices and 1 teaspoon of salt in a bowl and toss to combine. Transfer the onions to a colander and let sit for 30 minutes, tossing occasionally. Transfer the onions to a clean dish towel, gather the edges together and squeeze out as much liquid as you can from the onions. Do this over the sink or a large bowl since the onions will have quite a bit of liquid in them.
Divide the onions into 4 separate mounds on a rimmed baking sheet. Form the beef into 4 lightly packed balls. Place the beef balls on top of the onion mounds and flatten the beef firmly (use your palm) so the onion adheres to the beef. The patties should measure 4 inches in diameter. Season the beef generously with salt and pepper.
Melt the butter with the oil in a 12-inch skillet over medium heat. Using a large spatula, transfer the patties to the skillet, onion side down. Cook for 6-8 minutes, until the onions turn a deep golden brown and begin to crisp around the edges. Flip the burgers, then increase the heat to high and cook until well browned on the second side, about 2 minutes.
Add 1 or 2 slices of cheese to each burger and allow to melt. Add mayo, mustard and pickles to the top buns, then place each burger on a bottom buns. Serve immediately.