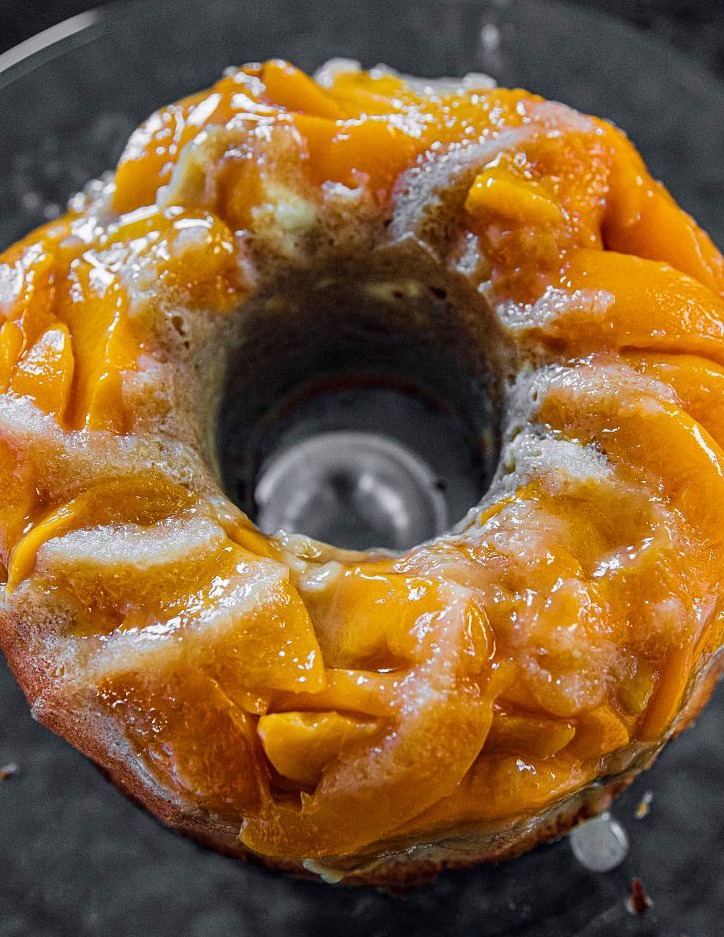 Indulge in a slice of pure Southern comfort with our Peach Cobbler Pound Cake. This delightful confection is a harmonious blend of two beloved classics – the timeless pound cake and the luscious flavors of peach cobbler. With each forkful, you'll experience the buttery richness of a perfectly baked pound cake, complemented by the sweet, juicy essence of ripe peaches and a hint of warm spices. This dessert is a nostalgic journey to lazy summer afternoons and gatherings filled with laughter and shared stories. The Peach Cobbler Pound Cake embodies the spirit of tradition while inviting you to explore a new realm of taste and texture. Whether served as the crowning glory of a special occasion or enjoyed as a comforting treat on an ordinary day, this cake is a tribute to the art of baking and the joy of savoring every bite. Join us in savoring a slice that captures the essence of Southern hospitality and the irresistible allure of homemade goodness.
Peach Cobbler Pound Cake
Ingredients
1 1/2 cups unsalted butter

2 cups sugar

3 tablespoons brown sugar

4 eggs, separated

1 teaspoon vanilla extract

3/4 cup peach schnapps

1/4 cup buttermilk

3 cups all-purpose flour

1 teaspoon baking powder

1/2 teaspoon salt

3 1/2 teaspoons cinnamon

1 teaspoon nutmeg

2 cans (15 oz each) sliced peaches in heavy syrup, drained
Directions
Step 1: Preheat the oven to 325 degrees F. In a small mixing bowl, combine brown sugar and 1/2 teaspoon of cinnamon.
Step 2: Generously butter a 10-inch bundt pan and sprinkle it with the cinnamon brown sugar mixture, ensuring even coating.
Step 3: In a medium bowl, mix the sliced peaches, 2 teaspoons of cinnamon, and 1/2 teaspoon of nutmeg. Set aside.
Step 4: In a large bowl, whisk together the flour, baking powder, salt, remaining cinnamon, and nutmeg. Set aside.
Step 5: In a separate small bowl, beat the egg whites until firm. Set aside.
Step 6: In a large bowl, cream the butter and sugar at medium speed until fluffy. Add the egg yolks one at a time, beating well after each addition. Stir in the peach schnapps and vanilla extract.
Step 7: Gradually add the dry ingredients to the wet ingredients, mixing gently but thoroughly. Fold in the buttermilk and beaten egg whites.
Step 8: Pour half of the batter into the prepared pan. Layer the peaches on top, reserving some for serving with the finished cake. Finally, pour the remaining batter over the peaches.
Step 9: Bake for approximately 90 minutes. Start checking after 60 minutes using a cake tester. If it comes out clean, the cake is done. Remove from the oven and allow it to cool in the pan.
Step 10: Once cooled for 10-20 minutes, carefully remove the cake from the pan and transfer it to a wire rack to cool completely.
Enjoy the delightful flavors of this Peach Cobbler Pound Cake, and don't forget to share the recipe with your friends and loved ones. It's the perfect treat for any occasion!