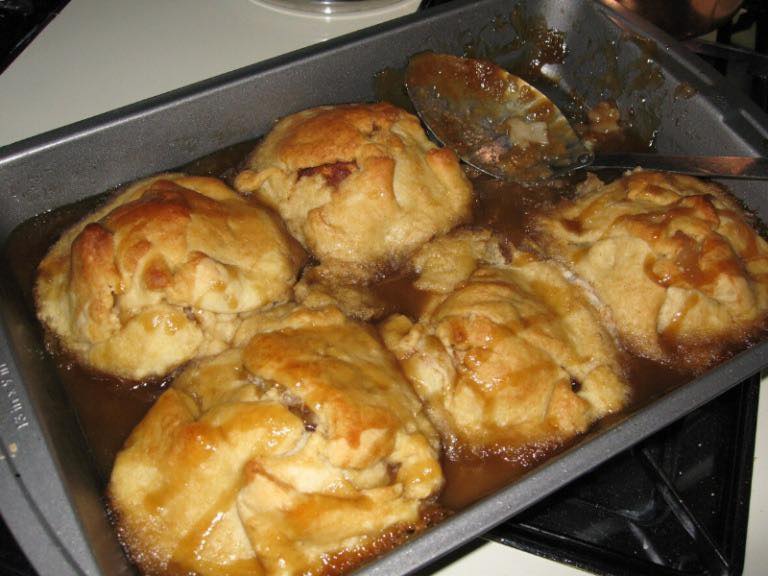 Step into a world of rustic charm and heartwarming flavors with our Old-Fashioned Apple Dumplings. These delectable treats are a nostalgic journey to simpler times, when the aroma of freshly baked pastries filled the air and the taste of sweet apples captured the essence of autumn. Imagine tender apple slices wrapped in a delicate pastry blanket, baked to golden perfection and nestled in a pool of cinnamon-spiced syrup. With each bite, you'll experience a symphony of textures and tastes that evoke feelings of comfort and contentment. The Old-Fashioned Apple Dumplings pay homage to the art of handmade desserts and the timeless joy of savoring traditions passed down through generations. Whether served as a cozy dessert or shared with loved ones on a chilly evening, these dumplings invite you to relish the simple pleasures of life. Join us in savoring a treat that celebrates the beauty of heritage and the unforgettable magic of flavors crafted with love.
Old Fashioned Apple Dumplings
Ingredients
Dumplings:

6 large Granny Smith green apples, peeled and cored

2 9- inch pie crusts

½ cup packed brown sugar

1 teaspoon cinnamon

½ teaspoon nutmeg

½ teaspoon salt

6 tablespoons butter

Sauce:

2 cups apple cider

3 tablespoons brown sugar

2 tablespoons butter

1 teaspoon vanilla extract

1 teaspoon cinnamon
Directions
Preheat oven to 375°F. Butter a 9×13 inch baking pan, set aside.
Divide pie crust into 6 equal pieces and roll each into about a 7" square or circle. You want the pie dough to be large enough to wrap completely around your apples. Place an apple on each pie dough with the center core facing upward.
In a small bowl, whisk together brown sugar, cinnamon, nutmeg and salt. Divide brown sugar mixture between apples, poking some inside each cored opening and the rest around the base of each apple.
Slice butter into 6 even slices and place 1 piece of butter in the opening of each apple.
Fold the corners of the dough over the apple to create the dumpling around the apple, being sure to pinch the edges together to seal the dough around the apples. Transfer dumplings to prepared baking pan.
In a medium sized saucepan over medium-high heat, add all sauce ingredients and bring mixture to a low boil, stirring constantly. Once the sugar has dissolved, cook for 1 minute longer and then remove from the heat. Let sauce cool for 5 minutes and then carefully pour it evenly over the apples.
Bake for 50 to 55 minutes, until golden brown and apples are tender.
Let dumplings rest for 10 minutes after coming out of the oven. Serve dumplings warm with ice cream and extra sauce poured on top.