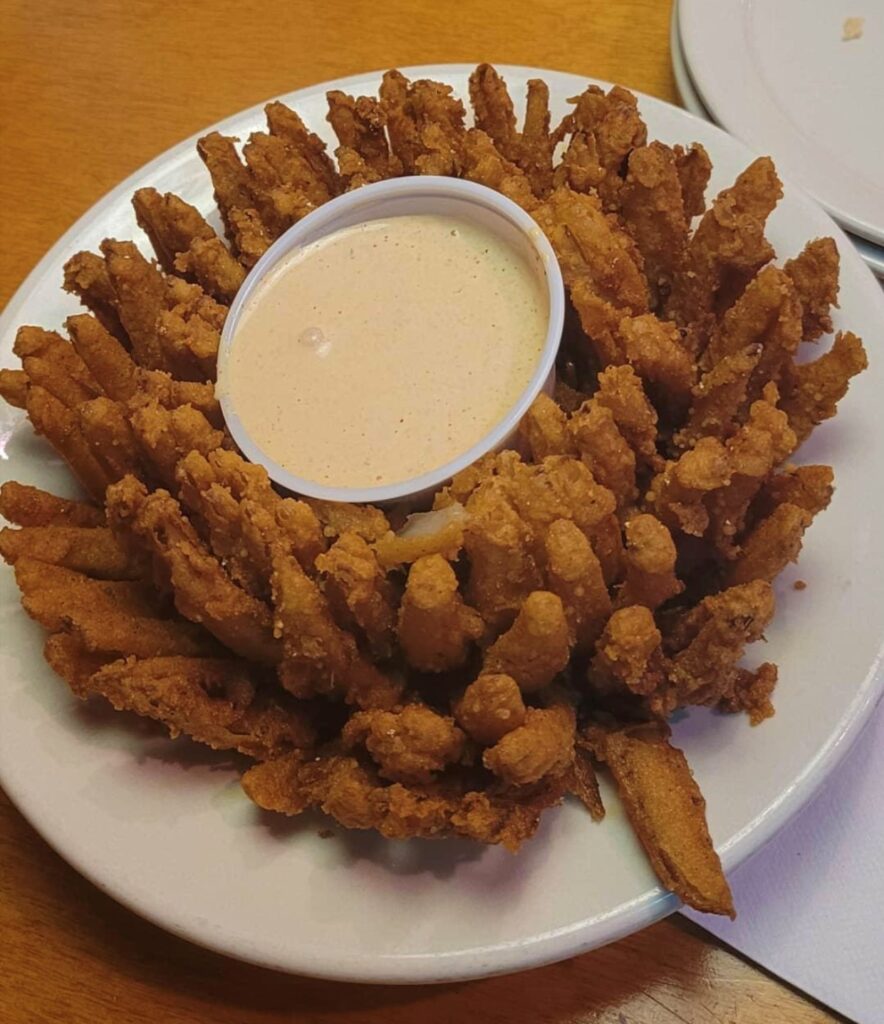 Prepare to embark on a culinary adventure that ignites the senses and unveils a taste sensation like no other — the iconic Outback Steakhouse Bloomin' Onion. This appetizer masterpiece transcends the realms of traditional fare, whisking you away to the heart of the Australian outback with every flavorful bite. With its origins deeply rooted in the renowned Outback Steakhouse, this blooming wonder has captivated the appetites of food enthusiasts around the world, becoming a symbol of indulgence and camaraderie. As you journey through layers of crispy, golden petals and unveil the savory secrets that lie within, you'll discover a harmonious blend of textures and tastes that redefine the art of appetizers. Join us as we unravel the tale behind the Outback Steakhouse Bloomin' Onion, exploring its creation, cultural significance, and the sheer culinary delight it brings to tables far and wide.
Outback Steakhouse Bloomin Onion
Ingredients
1 large white onion

2 1/2 cups all-purpose flour

2 tablespoons paprika

1 teaspoon cayenne pepper

1 teaspoon garlic powder

1/2 teaspoon of oregano

salt and pepper to taste

2 large eggs

1 1/2 cup milk

1 liter vegetable oil
Directions
In bowl, mix flour, spices, salt & pepper..
In another medium bowl, whisk eggs and milk until combined. Put aside.
Cut ½ inch off the pointed end of the onion while leaving the other root end intact. Then remove the paper skin.
Placing onion cutting side down on cutting board. Begin ¾ inch from root, cutting vertically down to board use sharp knife.
Repeat the vertical cuts down about 1/2 inch apart on the edge, taking care not to overlap previous cuts. You be get 10-15 cut in total.
Flip the onion and gently open the "petals" of the onion with your fingers until it looks like a flower. Put aside.
Dip onion in reserved flour mixture to completely cover. Then gently shake off the excess flour.
Gently dip into reserved egg mixture to completely cover. For great results, letting onion soak in batter for 11 min.
Return the onion to the flour mixture one more time and cover completely.
Place the onion on a plate and freeze for 30-60 minutes to set.
Filling deep fryer with 3 inches of oil & heat to 350°F. Line plate with paper towel & set apart.
Sauté onion for 3-4 min to golden. Then turn it over with a slotted spoon and cook for a few more minutes until golden brown.
Remove the onion to a prepared plate. Serve with an optional dip and Enjoy!