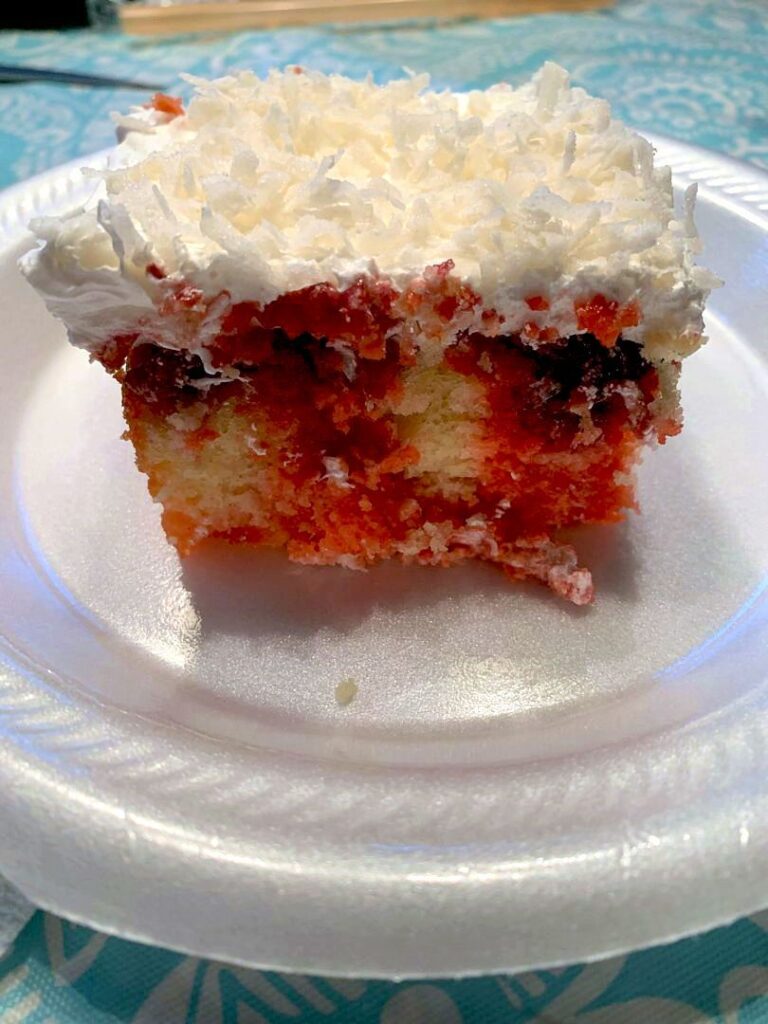 Embark on a journey of delightful indulgence with our Raspberry Zinger Poke Cake. This dessert is a true ode to sweet satisfaction, where tender cake meets the vibrant allure of raspberries in a symphony of flavors and textures. Imagine a soft, fluffy cake infused with the irresistible essence of raspberry, punctuated by pockets of luscious raspberry filling that seep into every crevice. Each forkful is a tantalizing blend of moist cake, zesty raspberries, and a touch of nostalgia that transports you to carefree moments of childhood. The Raspberry Zinger Poke Cake isn't just a treat; it's an experience that beckons you to savor the magic of fruity sweetness and the joy of creating memories through food. Whether enjoyed as a delightful dessert after dinner or presented as a star at celebratory gatherings, this cake promises to be a sensation that lingers on your taste buds and in your heart. Join us in celebrating the enchantment of berries and the delight of a dessert that's as vibrant as it is delicious.
Raspberry Zinger Poke Cake
Ingredients
FOR THE CAKE

1 box (18.25 oz) white cake mix

1 cup milk

3 eggs

1/2 cup vegetable oil

1 box (3 oz) raspberry Jello

1 cup water (boiling)

1 jar (18 oz) raspberry jam (seedless)

FOR FROSTING

1/2 cup butter (softened)

2 cups powdered sugar

1 Tbsp milk

pinch salt

1 jar (11 oz) marshmallow creme

1/2 tsp vanilla extract

7 oz sweetened shredded coconut
Directions
Preheat oven to 350 degrees F. Grease 9×13-inch baking pan.
In a large bowl on low speed, mix together cake mix, milk, oil, and eggs. Increase speed to medium and mix 2 minutes.
Pour batter into prepared pan and bake 35-40 minutes until a toothpick inserted into the center comes out clean.
Remove from oven and cool 30 minutes. Use the end of a wooden spoon to poke holes all over the cake.
Mix Jello with boiling water. Stir well to combine. Spoon Jello over the cake, trying to fill holes with Jello mixture.
Remove the lid from raspberry jam and microwave about 1 minute until jam is soft and liquid. Spread jam over the top of the cake.
Refrigerate cake for at least 2 hours.
In a small bowl on medium-high speed, mix together softened butter, powdered sugar, salt and 1 tablespoon of milk until light and fluffy.
Add in marshmallow creme and vanilla extract. Mix on low speed until well-blended.
Spread frosting over the chilled cake. Sprinkle with shredded coconut.
Notes
If marshmallow creme is too sweet for you, try substituting Cool Whip or fresh whipped cream for the frosting.