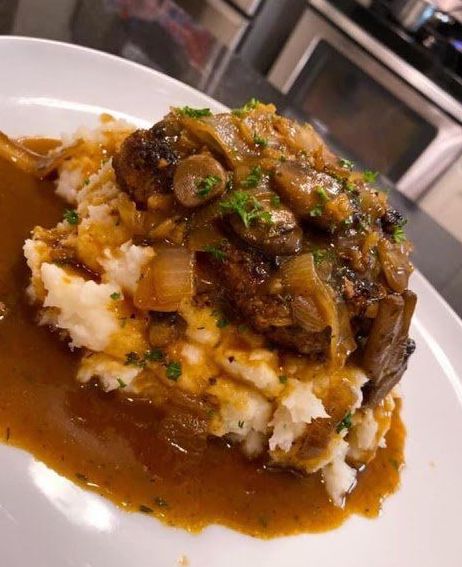 Prepare to savor a classic comfort dish that epitomizes the essence of hearty home-cooked meals — Salisbury Steak with Mashed Potatoes and Mushroom Gravy. This iconic combination brings together tender beef patties seasoned to perfection, creamy mashed potatoes, and a luscious mushroom gravy that coats each element with pure comfort. With its roots in American diner culture, this dish embodies the art of transforming simple ingredients into a symphony of flavors and textures that warm the soul. As we delve into the layers of history, culinary expertise, and sheer satisfaction that this dish offers, we'll uncover the heartwarming stories and timeless appeal that make Salisbury Steak with Mashed Potatoes and Mushroom Gravy a beloved favorite for families and food enthusiasts alike.
SALISBURY STEAK WITH MASHED POTATOES AND MUSHROOM GRAVY
Ingredients
1 lb. Ground beef

1 Large egg

½ Onion (Chopped finely)

¼ cup Seasoned bread crumbs

Salt and pepper to taste

1 tsp. Worcestershire sauce

2 Tbsp. Olive oil

1 Package of refrigerated mashed potatoes

8 oz. Sliced mushrooms

2 Tbsp. Butter

2 Tbsp. All purpose flour

2 cup Beef broth

Salt and pepper to taste
Directions
Combine the beef, egg, bread crumbs, worcestershire sauce, onion and salt and pepper to taste in a mixing bowl. Knead with your hands until well incorporated.
Make the meat mixture into four even patties.
Place the olive oil in a large skillet over medium high heat.
Sear the patties in the skillet until browned on both sides. Remove and set aside.
Pour out the excess fat from the pan.
Add the butter to the skillet.
Saute the mushrooms in the butter until they are beginning to soften.
Mix in the flour, and stir until combined.
Pour in the beef broth slowly until well blended.
Add the meat back to the pan, and simmer over medium low heat until the meat is cooked and the gravy is thick.