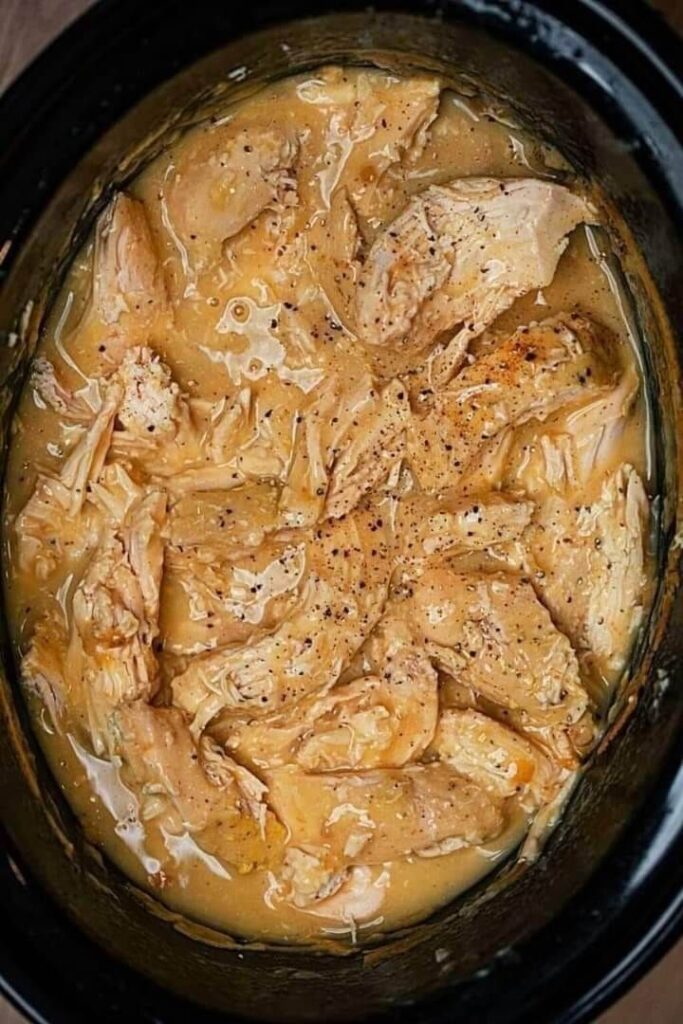 "Discover the art of convenience and comfort with our Slow Cooker Chicken and Gravy. This enticing dish brings together succulent chicken and a rich, savory gravy in a symphony of flavors that's as easy to prepare as it is delightful to savor. Imagine tender, juicy chicken pieces slow-cooked to perfection, infused with the deep flavors of herbs and spices, all cocooned in a velvety blanket of luscious gravy. Each forkful offers a taste of home-cooked goodness that warms the soul and satisfies the senses. Whether enjoyed as a hearty weeknight meal, a crowd-pleasing option for gatherings, or a reminder that the simplest ingredients can create moments of culinary delight, our Slow Cooker Chicken and Gravy is a testament to the magic that happens when convenience meets a love for savory comfort."
Slow Cooker Chicken and Gravy
Ingredients
1 1/2 cups of water

3 chicken breasts

1 1/4 cup of condensed chicken soup

2 packets of chicken gravy granules

1 tsp garlic powder

1/2 tsp salt

1/2 tsp paprika

1/4 tsp ground black pepper

1/2 a cup of sour cream
Directions
Turn on your slow cooker to the "low" option.
To the slow cooker add water, condensed chicken soup, and the gravy packets, combine well.
Season this mixture with paprika, garlic powder, black pepper, and salt, Add-in seasoned chicken breasts with black pepper, garlic powder, and salt.
Place the lid on and let this cook for 4-5 hours. Once cooked cut the chicken to your desire.
Finally, add in the sour cream and pour over your chicken just before serving.