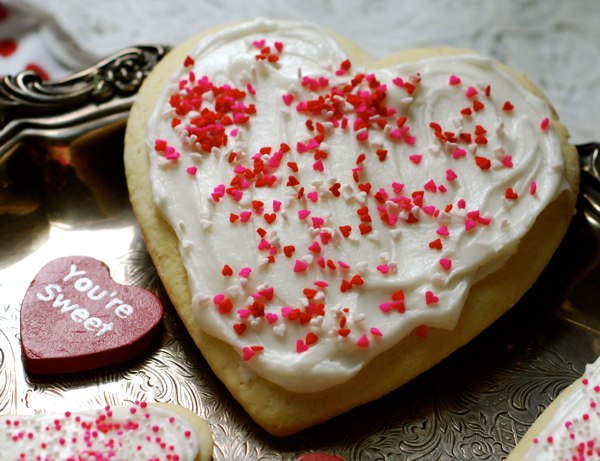 "Indulge in the perfect blend of tenderness and sweetness with our Soft Sour Cream Sugar Cookies. These delicate creations are a delightful twist on the classic sugar cookie, crafted with a touch of sour cream that transforms each bite into a pillow-soft, melt-in-your-mouth experience. Imagine sinking your teeth into a cookie that's both delicately crumbly and luxuriously moist, with a whisper of tang from the sour cream that balances the sweetness flawlessly. With a subtle vanilla aroma and a gentle dusting of sugar, these cookies are a celebration of comfort and simplicity. Whether savored as an afternoon treat with tea, a charming addition to dessert spreads, or a heartfelt gift that's sure to bring smiles, our Soft Sour Cream Sugar Cookies are a testament to the joy of baking and the magic of flavors that bring warmth to every bite."
SOFT SOUR CREAM SUGAR COOKIES
Ingredients
makes 10 to 12 large cookies ~

2 and 3/4 cup all purpose flour

1/2 teaspoon baking soda

1/4 teaspoon salt

1/2 cup sour cream (not lite, and not yogurt)

1/2 cup unsalted butter, softened

1 cup sugar

1 large egg, lightly beaten

1/2 teaspoon pure vanilla or almond extract

Once cookies are completely cool, make your frosting:

4 cups powdered sugar

2 Tablespoons butter, softened

2 Tablespoons cream cheese, softened

1/2 teaspoon pure vanilla or almond extract

add milk, 1 Tablespoon at a time, to reach desired consistency
Directions
-Mix the flour, baking soda, and salt in a large mixing bowl and combine the ingredients using a wire whisk.
-In the bowl of a counter top mixer (such as a Kitchen Aid) mix: the sour cream, butter and sugar until light and fluffy. Add the egg and flavor extract. Mix until just evenly combined.
-Mix wet and dry ingredients together just until combined. Don't over mix.
-Gather the dough into a ball and flatten it into a disc. Place cookie dough in a large Ziploc bag and chill it in the refrigerator for 1 to 2 hours.
-Once dough is chilled, preheat your oven to 350 degrees F. Roll out dough on a floured surface so it's 1/4 inch thick.
-Cut out your cookies using your favorite cookie cutters and place the cookies on a lightly greased cookie sheet, or line the sheet with cooking parchment or a Silpat mat.
-Bake for 8 to 10 minutes, or just until lightly golden brown on the bottom and completely set.
-Don't over bake or your cookies won't be soft. Cool on baking sheets for 3 minutes and transfer cookies to a wire rack to cool completely before frosting.
-Place all ingredients in a large bowl, and using an electric mixer, mix until light and fluffy. Add milk to reach desired consistency… I used 5 Tablespoons.
-Frost cookies and add sprinkles. Store in an air-tight container on your counter for up to 3 days, otherwise store them in your refrigerator. They're best when they're very fresh.
-Enjoy !