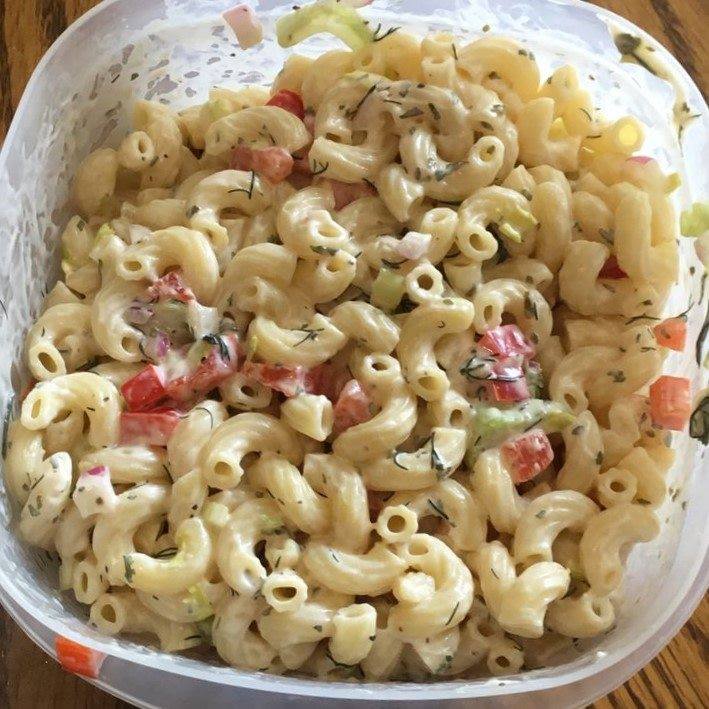 Prepare to experience a bowlful of culinary delight that captures the essence of nostalgia, comfort, and satisfying simplicity — The Best Macaroni Salad. This creation is a testament to the art of transforming humble ingredients into a symphony of flavors and textures that tantalize the palate. With tender pasta, crisp vegetables, and a creamy dressing that wraps it all together, this macaroni salad is the embodiment of a timeless classic done to perfection. As we explore the world of The Best Macaroni Salad, we'll uncover the crafting techniques that ensure the perfect balance of creaminess and crunch, the secrets behind the dressing that brings it all to life, and the sheer joy it brings to picnics, gatherings, and moments when you crave a taste of comfort that's simply unmatched. Join us on a journey through the realm of flavor, where each forkful transports you to a place of pure, mouthwatering satisfaction.
The Best Macaroni Salad
Ingredients
2 cups elbow macaroni, uncooked

1 cup mayonnaise

1/2 cup finely chopped celery

1/3 cup finely chopped carrot

1 hard-boiled egg, chopped

1/4 cup finely minced onion, i use dehydrated onion

2 tablespoons sweet relish

3/4 teaspoon dry ground mustard

1/4 teaspoon salt

1/8 teaspoon ground black pepper

1 dash paprika

3 quarts water

1 1/2 teaspoons salt
Directions
In a large pot bring 3 quarts water to a rolling boil.Add 1 1/2 teaspoons salt.
Gradually add dry elbow macaroni.
Return to a boil.
Boil uncovered 6-8 minutes.
Drain well and rinse with cold water and drain again.
In a medium bowl combine all ingredients.
Place cooked macaroni in a large bowl and toss well with other ingredients.
Cover and refrigerate.