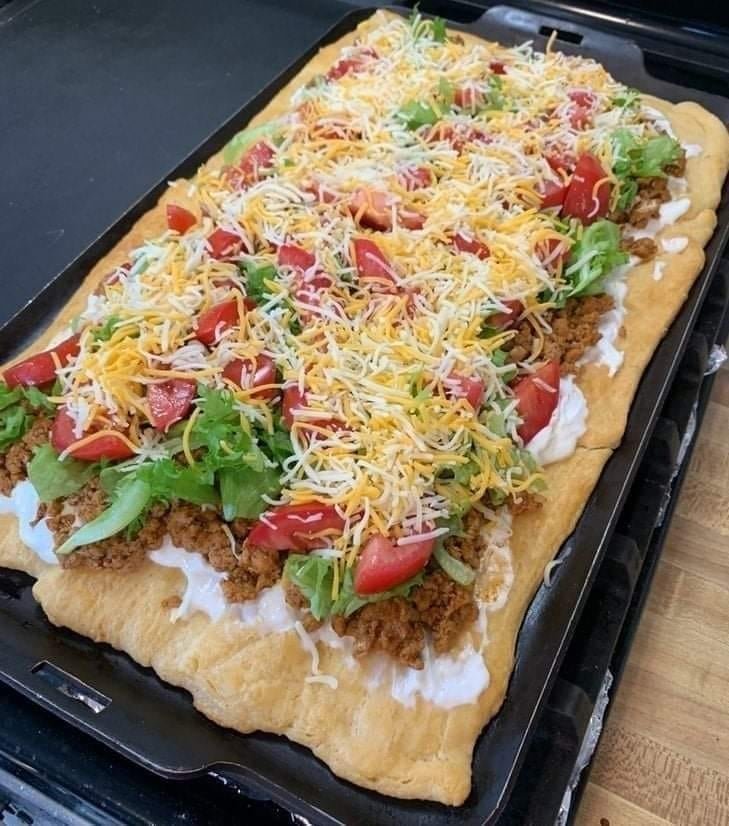 Get ready to embark on a flavor-packed adventure that fuses the best of two beloved cuisines — welcome to the world of Taco Pizza. This innovative creation takes the spirit of tacos and combines it with the indulgence of pizza, resulting in a culinary masterpiece that's as exciting as it is delicious. With a crispy pizza crust serving as the canvas, this dish is adorned with all the taco essentials: seasoned meat, vibrant vegetables, gooey cheese, and a drizzle of zesty sauce. As we explore the realm of Taco Pizza, we'll uncover the art of balancing flavors and textures, the creativity that goes into this cross-cultural fusion, and the sheer delight it brings to those seeking a meal that's both comforting and exciting, all in a single slice. Join us as we dive into the flavorful world of Taco Pizza, where every bite is a celebration of the best of both worlds.
TACO PIZZA
Ingredients
1 lb. ground beef

1 envelope taco seasoning mix

2 (8 oz.) cans Pillsbury crescent rolls

1 (16 oz.) can refried beans (I used the jalapeño kind)

2-3 cups shredded cheddar cheese or Mexican blend

1/2 cup chopped tomatoes

1/4 cup sliced black olives

4 green onions, chopped

Heat oven to 375 degrees.
Directions
Brown ground beef and drain. Add taco seasoning to the ground beef according to the package directions
Unroll crescent rolls into rectangles. Place in ungreased 11 1/2 inch x 16 1/2 inch jelly roll pan or cookie sheet. Press dough over the bottom and 1/2 inch up sides to form crust. Bake at 375 oven for 11 to 13 minutes or just until golden brown.
Microwave beans in a microwave safe bowl for 1 minute. Carefully spread beans over warm crust creating a thin layer.
Top with cooked beef mixture, sprinkle with cheese followed by tomatoes, black olives and green onion. Return to oven for 3-6 more minutes until cheese is melted. Serve immediately. Makes 12 main dish servings or 48 appetizers.