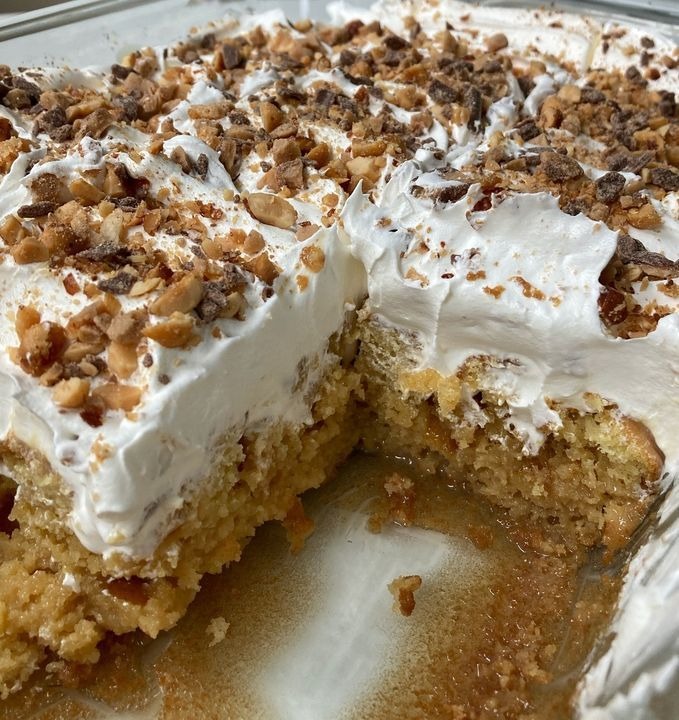 Elevate your dessert experience to new heights of decadence with our Toffee Butterscotch Cake. This confection is a symphony of flavors that marries the rich, buttery essence of butterscotch with the delightful crunch of toffee, creating a taste sensation that's simply irresistible. Imagine sinking your fork into layers of moist cake infused with the indulgent notes of caramelized sugar and creamy butterscotch, while decadent toffee bits add a delightful surprise in every bite. With each mouthful, you'll embark on a journey of contrasting textures and harmonious flavors that's designed to captivate your senses. The Toffee Butterscotch Cake isn't just a dessert; it's an experience that transforms ordinary moments into extraordinary memories. Whether shared at a celebration or savored as a personal indulgence, this cake invites you to savor the artistry of flavors that come together in a truly enchanting way. Join us in relishing a slice that redefines dessert with its luxurious combination of butterscotch and toffee, setting a new standard for sweet satisfaction.
Toffee Butterscotch Cake
Ingredients
one 15.25-ounce box yellow cake mix

3 large eggs

1 cup water

1/3 cup vegetable or canola oil

12-ounce jar butterscotch sundae syrup or ice cream topping

half of one 14-ounce can sweetened condensed milk

12-ounce whipped topping, thawed (I used lite)

1/2 cup toffee bits
Directions
Preheat oven to 350F, line a 9×13-inch pan with foil for easier cleanup, and spray with cooking spray; set aside.
To a large bowl, add the cake mix, eggs, water, oil, and mix on high-speed with a handheld electric mixer for about 2 minutes. Turn batter out into prepared pan and bake the cake for about 23 to 25 minutes, or a toothpick that's inserted in the center comes out clean.
After taking the cake out of the oven, using the blunt end of a wooden spoon, poke about 75 holes evenly over the surface of the cake, poking nearly to the bottom of the cake; set aside.
To a medium bowl, add the butterscotch topping, sweetened condensed milk, whisk to combine, and slowly and evenly pour over the surface of the cake. Run a spatula back and forth as necessary over the surface of the cake to encourage the mixture to sink down into the holes.
Cover cake and place it in the fridge for at least 2 hours, or until chilled. For a make-ahead option, note that the cake will keep in the fridge for a couple of days before serving it.
Before serving, evenly spread the whipped topping over the cake, evenly sprinkle with the toffee bits, and serve.
Notes
Storage: Cake will keep airtight in the fridge for up to 5 days, noting it may get more soggy as time passes.