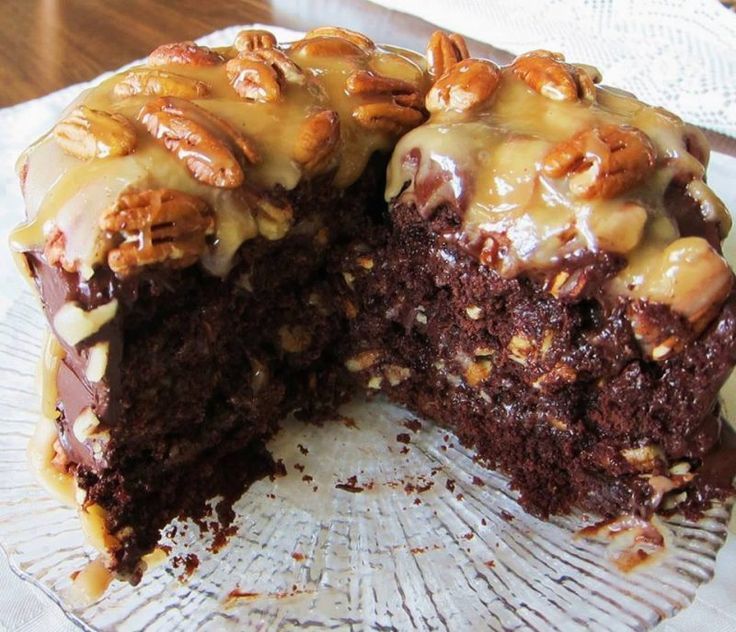 Indulge in a dessert that takes the art of confectionery to new heights, a creation that seamlessly blends decadence and elegance — the Turtle Caramel Cake. This masterpiece pays homage to the luscious combination of caramel, chocolate, and pecans, drawing inspiration from the iconic turtle candies that have delighted taste buds for generations. Each layer of moist cake, generously drizzled with velvety caramel, is a testament to the harmonious interplay of flavors and textures. With every forkful, you'll experience the buttery richness of caramel, the deep allure of chocolate, and the satisfying crunch of toasted pecans. Join us as we delve into the world of Turtle Caramel Cake, exploring the culinary artistry, the history of its creation, and the pure indulgence it brings to those seeking a slice of dessert perfection.
Turtle Caramel Cake
Ingredients
1 cup chocolate chips

2 cups pecans

3/4 cup melted butter

1/2 cup evaporated milk

1 (14 ounce) bags caramels

1 1/3 cups water ( or as called for by your cake mix)

1/3 cup oil ( or as called for by your cake mix)

3 eggs ( or as called for by your cake mix)

1 (18 ounce) boxes German chocolate cake mix
Directions
Prepare cake mix as directed.
Pour 1/2 of the batter in a 13×9 inch pan.
Bake at 350 for 15 minutes.
Remove and let cool.
In a double boiler, add carmels, milk and butter and stir constantly till melted.
Pour melted carmel over cooling cake.
Sprinkle on top 1 cup of pecans & chocolate chips.
Pour remaining batter on top and bake for an additional 20 minutes.