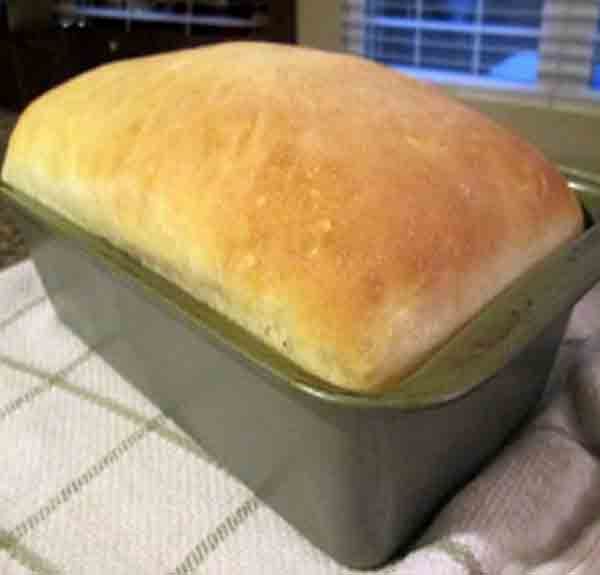 "Step into the world of timeless traditions and homemade goodness with our Amish White Bread. This bread is a masterpiece born from the heart of Amish kitchens, crafted with simplicity and a dedication to quality ingredients. Imagine slices of freshly baked bread with a tender crumb, a golden crust that offers a satisfying crunch, and a wholesome aroma that fills the air. Each bite carries the legacy of generations, a testament to the art of bread-making that values time-honored techniques over shortcuts. Whether enjoyed as the foundation of a comforting sandwich, a vessel for spreading love through butter and jam, or simply savored on its own, our Amish White Bread invites you to experience the rustic charm and authentic taste of a classic staple that transcends generations."
Amish White Bread
Ingredients
Luke-warm water: 3 cups

Sugar: 1/4 cup

Yeast: 1 1/2 Tbsp.

Oil: 1/3 cup

Salt: 1 Tbsp.

Unbleached ground white wheat flour: 6 – 7 cups (regular all-purpose flour is also fine; about 8 more cups of flour will be needed. This will result in a softer, less-coarse bread.)

Vital wheat gluten: 1 Tbsp. (only if using whole white wheat flour)
Directions
Start by dissolving yeast, in a large mixing bowl, in warm water and sugar and let sit for 10 minutes.
You'll want to add the oil, the salt and flour (starting with 6 cups of flour) and mix everything well.
Now, knead the dough thoroughly for 6 to 10 minutes, or until everything is incorporated (that's right, just till the dough is smooth, elastic, very slightly sticky, and pulls away from the bowl).
Whilw kneading the dough, be sure to add more flour as needed. And please repeat the process until dough reaches the desired consistency.
Using a dish towel or plastic wrap, cover the bowl of dough. Let rise until doubled, it takes at least 1 hour depending on how warm your kitchen is. It's wise to place the covered bowl inside the oven with the oven light on, and another bowl of warm water sitting on the lower rack so to speed up this process.