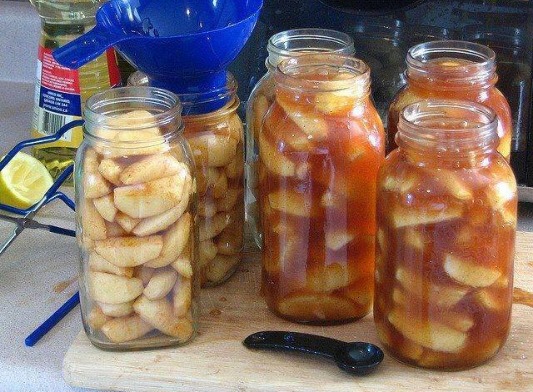 Step into the heartwarming world of comforting aromas and nostalgia with our luscious Apple Pie Filling. Imagine a medley of perfectly sliced apples, kissed by cinnamon and gently simmered to tender perfection. This filling captures the essence of autumn's bounty, transporting you to cozy kitchens and the joy of homemade desserts. With each spoonful, you're greeted by the sweet and slightly tangy flavor of apples, enveloped in a syrupy embrace that hints at the essence of home. Whether you're crafting a flaky pie crust or looking to elevate pancakes, ice cream, or oatmeal, our Apple Pie Filling is a versatile delight that embodies the season's warmth and the timeless pleasure of savoring something made with care and love. Join us in celebrating the art of comfort with every spoonful of our Apple Pie Filling – a taste of tradition that brings loved ones together around the table.
Apple Pie Filling
Ingredients
5 apples

1 c. sugar

1/4 c. corn starch

1 tsp ground cinnamon

1/2 tsp ground nutmeg

1/2 c. water

3/4 c. apple juice or apple cider

2 tablespoon lemon juice
Directions
Core, peel and slice apples. Place in boiling water for 1 minute. Set aside and keep hot. Boil remaining ingredients until desired thickness. Barely let it reach a full boil. Fill hot sterilized quart jars alternating apples and syrup until it is almost full. Run a knife down the side to remove air bubbles. Add more apples and syrup. "Process in boiling water bath. Put jars in water bath pan or one that allows you to put water over the jars about 1 inch. Boil for 25 minutes".